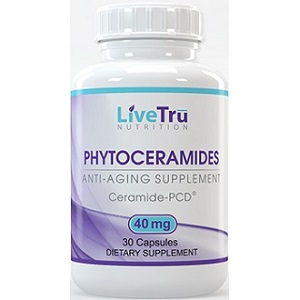 LiveTru Phytoceramides - Does It Work?-Review
What is LiveTru Phytoceramides?
The following is an in-depth review of LiveTru Phytoceramides, which will explore the effectiveness of this anti-aging supplement. Phytoceramides are lipid molecules used to keep the skin's appearance youthful and healthy. These molecules are typically extracted from plants and are absorbed through the bloodstream. This product further claims that it helps fight signs of aging by hydrating the skin and protecting it from the sun.
Ingredients & How It Works
Ceramide-PCD (Phytoceramides, Glycolipids & Glycosylceramides)
Vitamin A (As retinyl acetate)
Vitamin C (As ascorbic acid)
Vitamin D (As ergocalciferol)
Vitamin E (As dl-alpha tocopheryl acetate)
Vegetable Cellulose
Purified Water
Magnesium Stearate
Stearic Acid
Silicon Dioxide
This product contains Ceramide, which promotes the hydration of the skin, as well as several other potentially beneficial vitamins and antioxidants. Unfortunately, it is not specified if the phytoceramide used in this product is the pure form needed to get the desired effect. Furthermore, this supplement was manufactured in a facility that may process some allergens like eggs, tree nuts, shellfish, and soy, which does create the possibility of contamination.
Daily Serving
Although LiveTru Phytoceramides' label does indicate the size of each serving (one capsule), no indications for use or information on daily dosage could be found. This creates an issue as users are not advised about the most effective or safe dosage. The lack of indication could also lead to incorrect dosages to be consumed, rendering undesired results.
The Cost
The current price for purchase on the manufacturer's website is $39.99, which is offered as a $10 discount from the normal price. Even at a discount, this product is significantly more expensive than other phytoceramides supplements on the market - this may lead to customers opting for more affordable brands.
Guarantee
Even though the manufacturer promotes their confidence in their product, their return policy demands certain conditions be met in order for a refund. If a customer is not satisfied, the may return the product, granted that it has not been opened and the return occurs within 14 days of purchase. Refunds also exclude any shipping costs incurred by the customer.
Our Review Summary Of Phytoceramides
This phytoceramide does have some positives, as it contains a mix of vitamins and antioxidants. This supplement also does not come in a gelatin casing, suggesting that it should be suitable for people with strict vegan or vegetarian diets. Unfortunately, it is manufactured in a facility that may work with animal products, which could have contaminated this product. Although there is a discount offer, this supplement is still high. Especially considering that it only contains 40mg of phytoceramides. This similarly raises the question of its effectiveness considering this low dosage. However, the most concerning thing we found was the absent daily dosage indication, which is crucial information needed by the user. 
Well researched reviews, from the experts at Research & You.