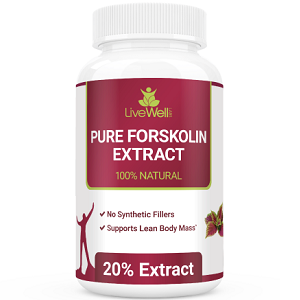 LiveWell Labs Pure Forskolin Extract - Does It Work?-Review
What is LiveWell Labs Pure Forskolin Extract?
Here we are going to take a look at the weight loss product LiveWell Pure Forskolin Extract to see whether or not it will work. Forskolin is a mint plant derivative from the roots of a Coleus Forskohli plant. The manufacturer does not actually provide any information about what the product claims to help with, but we have learned that forskolin is used for weight loss purposes. Read our full Livewell Labs Pure Forskolin Extract review to learn more about this product.
Ingredients & How It Works
This product contains 250mg of forskolin extract standardized to contain 20% forskolin. It is a popular supplement to help aid people in their weight loss goals alongside a healthy lifestyle and diet. It has been used as an alternative medicine for centuries too. list of benefits
List of benefits:
Can possibly open up your airways in your lungs so you can do cardio more efficiently.
Improve bone density and lower the risks of bone-related diseases such as osteoporosis.
Could possibly boost production of testosterone and support the building of lean tissue.
LiveWell Labs Pure Forskolin Extract is not made with any artificial additives and is suitable for vegetarians. The design of capsule makes each one easy to swallow and digest too.
Daily Serving
For optimal results, one should take 2 capsules per day with a glass of water. Simply take one capsule 30 minutes before breakfast and another one before your evening meal. Each tablet contains 250mg per serving.
The Cost
There are 60 capsules in a bottle giving you a 30 day supply. LiveWell Labs Pure Forskolin Extract costs $44.95 if you buy online from the manufacturer. You can also buy in bulk package options. You can buy 3 bottles for a total price of $119.95 or six bottles for a total price of $224.95. With the 3 and 6-bottle packages, you get free shipping too. We think this is very expensive compared to other brands that offer the same concentration per capsule.
Guarantee
The makers of LiveWell Pure Forskolin Extract offer a money back guarantee that lasts 365 days from your date of purchase. If you are not happy with the product, simply contact the company for details on how to send the product back to them.
Our Review Summary of LiveWell Pure Forskolin Extract
LiveWell Labs seems to be a reputable company and have a good standard of customer service. Whilst a company can have a good reputation it does not always mean all of their products are unbeatable.
What did we like about this product?
Offers a simple product with no additives.
Uses natural ingredients suitable for vegetarians.
Comes with a great money-back guarantee.
What don't we like?
The product does not offer an explanation of what it does for you - who is it for? What are the benefits? Consumers should not have to research this themselves.
LiveWell Labs Pure Forskolin Extract is priced higher than it should be in our opinion.
Produced in the USA and easy to locate and contact, yet the price is high and the manufacturer does not provide enough information. There are just as effective products available on the market for cheaper and that also come with more information about the goals of the product and where the ingredients come from.
Well researched reviews, from the experts at Research & You.