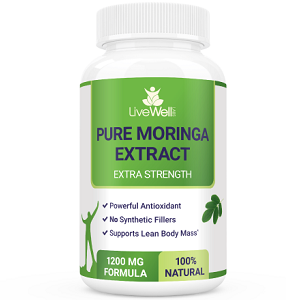 LiveWell Pure Moringa Extract - Does It Work?-Review
What is LiveWell Pure Moringa Extract?
LiveWell Pure Moringa Extract is a dietary supplement that contains a pure powdered leaf of the Moringa Oleifera plant. Since ancient times, Moringa was used to treat many health conditions and today there is significant scientific research into the health benefits of taking Moringa extract. Currently, it is agreed by the majority of researchers that taking Moringa extract supports weight loss and reduces oxidants in the body. In this review, we inspect LiveWell Pure Moringa Extract, to establish if it contains the best formulation of Moringa extract to achieve the benefits found by research at a reasonable cost.
Ingredients & How It Works
The only active ingredient in this supplement is a pure Moringa oleifera leaf extract. The Moringa leaf extract itself contains a range of vitamins, minerals and antioxidants, but is particularly high in vitamins A, C and E, iron, calcium and potassium. Calcium and potassium are important in nerve and muscle function, iron is important for oxygen transport in the blood and the vitamins are important for many biological reactions in the body, including collagen synthesis, which gives skin its firmness.
Another important component of Moringa leaf extract is a substance called benzylamine. Benzylamine and its metabolites have scientifically been shown to act in the insulin and fat cell pathway to reduce circulating glucose and cholesterol.
Daily Serving
Two capsules must be taken daily, each at different times of the day, 30 minutes before a meal. This will deliver 1200 mg of the Moringa extract daily.
The Cost
One package of 60 capsules can be bought online for $49.95. LiveWell offers a discount for buying a set of three or six packages. The set of three packages costs $139.95, which results in a saving of $9 and the set of six packages costs $240.00, which is a saving of $59.70.
Guarantee
LiveWell offers a 365 day money-back guarantee on this product.
Our Review Summary Of LiveWell Pure Moringa Extract
We found that the dose of Moringa that this product contains to be optimal to achieve the benefits that Moringa extract provides. The directions for taking the product are also quite clear. The cost of each package is reasonable and a discount is offered for buying in bulk.
However, we did find a number of things that were concerning about this manufacturer's Moringa extract. The manufacturer provides no information for customers to read about Moringa extract and how it works in the body. The information in this review stems from external scientific literature. To this effect, they have not provided any warnings about the product especially that it should not be used by pregnant women because scientific research has shown that some of the chemicals in Moringa extract are unsafe for a baby in the womb. They also don't provide any space for customer feedback to be shown, so any potential buyer has no indication about how the product has worked for other people.
Superficially, this product appears to be alright, but due to the large amount of information the manufacturer withholds, we don't consider it to be a trustworthy product.
Well researched reviews, from the experts at Research & You.