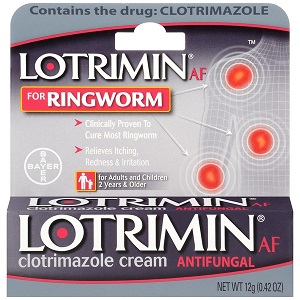 Lotrimin AF Ringworm Cream - Does It Work?-Review
What is Lotrimin AF Ringworm Cream?
This review is for a product called Lotrimin Ringworm Cream. Lotrimin Ringworm Cream is a scientifically proven product designed to provide relief to ringworms, itchiness, skin irritation and skin inflammation. The manufacturer claims that this cream will give you as soothing feeling and ease after application.
Ingredients & How It Works
The only active ingredient is Clotrimazole. This ingredient is known to be effective in alleviating skin infections such as athlete's foot, ringworm and other fungal skin infections. It prevents the growth of fungi by interfering with the production of the membrane that surrounds the fungal cells.
The inactive ingredients are Benzyl Alcohol, Water, Sorbitan Monostearate, Stearyl Alcohol, Cetyl Alcohol, Cetyl Esters Wax, Octyldodecanol, and Polysorbate 60.
Daily Serving
Wash the affected area with water and dry it carefully. Then apply a thin layer over the affected area two times a day, in the morning and at night.                                                                               To achieve maximum benefits, apply it every day for four weeks. Speak to your doctor if you do not see any results after this period.
This product is not intended for children under the age of two, unless advised by a medical practitioner.
The Cost
The Ringworm Cream is sold by third-party retailers for a price ranging between $8.92 and $13.39 a tube. It is only available in 0.42 oz, which is too small. One might need to buy more than one if they have ring worms in many part of the body. There are no discounts available on this product, however the  manufacturer gives away a $1.50 coupon when you buy any Lotrimin product, including the Ringworm Cream. This is good for customers who buy over the counter because you simply print the coupon and present it at your retailer for a discount. There are no instructions on how to use the coupon when purchasing online, which could  mean that online customers are excluded from the discount.
Guarantee
We searched on the manufacturer's website and third-party retailers' websites, and we could not find any information about a money back guarantee. This could mean that the manufacturer is not confident that this product will work for you. It would be wise to consult with a doctor before using this product as it is risky to use it.
Our Review Summary of Lotrimin AF Ringworm Cream
Lotrimin Ringworm Cream contains an ingredient that is known to provide relief to many fungal infections. However, some customers who have bought the cream indicated that the product starts to work at around two weeks, just about the same time the cream is literally just finishing, compelling you to purchase more, otherwise you will not achieve all the results. Some customers indicated that it did not work for them at all.
The manufacturer also does not offer any money back guarantee. This means that you are likely to waste your money on a product that might not work for you, and not get your money back. You will also waste more money if the product starts to work for you because you will be compelled to order more since the size of the tube is very small and does not last long.
There are no instructions on how to use the coupon that is offered on the manufacturer's website if you are purchasing online, meaning that it might be useless. With this said, Lotrimin Ringworm is expensive, considering how small the tube is. It would not be wise to spend that amount of money on a product that is not guaranteed by the manufacturer.
Considering all the downsides it would be risky to buy Lotrimin AF Ringworm Cream, and therefore we do not recommend it.
Well researched reviews, from the experts at Research & You.