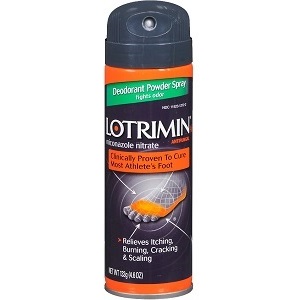 Lotrimin Athlete's Foot Deodorant Powder Spray - Does It Work?-Review
What is Lotrimin Athlete's Foot Deodorant Powder Spray?
In this review of Lotrimin Athlete's Foot Deodorant Powder, we determine whether or not it is a reasonable treatment for the symptoms and underlying bacteria related to fungal skin infections such as ringworm, jock itch and athlete's foot. The manufacturer prides itself for releasing a product which utilises a strong antifungal agent in the spray which fights the infection at the root of the cause, and provides relief for burning, itching and scaling skin.
Ingredients
Primary Ingredient:
Known for its ability to dismantle the fungus responsible for the infection of the skin, Miconazole Nitrate is an azole anti-fungal which is concentrated at 2%. Our research tells us that higher concentrations of this anti-fungal may be harmful, which is definitely a matter of concern.
Undecylenic Acid has been scientifically proven to be the strongest anti-fungal according to clinical studies, and we wonder why the manufacturer has omitted this powerful ingredient along with other useful ingredients such as antibacterial oils and soothing oils which could provide a well-rounded treatment.
Secondary Ingredients:
Fragrance
Isobutane
SD Alcohol 40-B (8% v/v)
Stearalkonium Hectorite
Talc
Dosage
To apply this product, thoroughly wash and dry the site of infection and spray the solution thinly onto the skin in the morning and evening. Individuals with athlete's foot and ringworm are advised to pay special attention to the skin between the toes and can follow through with a 4 week long treatment period, whereas individuals suffering from jock itch can follow through with a treatment period of 2 weeks. Should the treatment period be over, and the condition has not improved, seek professional medical help.
Medical practitioners are required to authorize permission for children who are under the age of 2 to use this product. Shake the can well before use and contact a medical practitioner if any irritation or adverse effects are experienced.
Price
The deodorising powder spray is available for online purchase through third-party retailers as well as retail pharmacies. The price for a 4.6 oz ranges from $6.44 to $10.49 depending on the retailer,and according to our research we see that the manufacturer's website seems to be offering a discount.
Guarantee
After careful research, we unfortunately failed to find any return or refund policy relating to this product, and we are disappointed at the fact that they do not protect their customers with a guarantee.
Lotrimin Athlete's Foot Deodorant Powder Spray Review - Conclusion
In this review of Lotrimin Athlete's Foot Deodorant Powder Review Spray, we like that this product is easy to apply and that it is available at retailing pharmacies as well as online purchase. However, we also stumbled on the fact that this product includes many inactive ingredients which could potentially weaken the performance of the main ingredient. We also feel that a better choice of active ingredient could have been made, such as Undecylenic Acid instead of Miconazole Nitrate.
Well researched reviews, from the experts at Research & You.