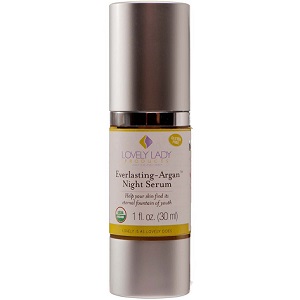 Lovely Lady Products Everlasting-Argan Night Serum Oil - Does It Work?-Review
What is Lovely Lady Products Everlasting-Argan Night Serum Oil?
Night serums are used to improve the condition of the skin while you are sleeping. Today, in this review, we will be discussing Lovely Lady Products Everlasting-Argan Night Serum. Claiming that it can reduce the visible signs of aging, by boosting your skin's ability to regenerate itself - this night serum is made from three types of natural oils that are said to boast a wealth of benefits. Let's take a closer look.
Ingredients & How It Works
Organic Neroli Essential Oil
Organic Helichrysum Essential Oil
Organic Argan Oil
Containing three certified organic oils, and seemingly nothing else, this product has some potential. Firstly, neroli oil is a precious botanical oil made from the bitter orange tree (Citrus aurantium). This essential oil is said to have many benefits including anti-inflammatory, promotion of skin regeneration and the ability to maintain the level of moisture in the dermis. Helichrysum Essential Oil is derived from a type of sunflower, this ingredient is predominantly used in cosmetics for its supposed healing capabilities. Hailing from Morocco, Argan Oil is produced from the kernels of the Argan Tree - this oil is said to contain many minerals and vitamins that enables the skin to heal at a quicker rate. While these oils have been used for centuries there is very little scientific evidence to back up their effects.
Instructions
The manufacturer suggests that you should use this product right before you go to bed, which is supposed to be the optimum time for skin regeneration. Apply a small amount of this oil mixture with the pump nozzle on your fingertips and then all over your face. This skincare product is packaged in an airtight pump container, which means that no bacteria can get in - keeping its formulation in a stable state.
The Cost
You can buy this oil-based night serum at a price of $29.99 directly from the manufacturer on their website - with free shipping applying to your purchase. Apart from this, our research did not produce any other evidence of other special offerings or discounts at this time.
Guarantee
Unfortunately, after combing through the manufacturer's website, we did not come across any mention of a returns policy or satisfaction guarantee. The lack of such a policy does make us question the confidence that the manufacturer may have in their product. As well as the effectiveness of this serum as a whole.
Our Review Summary Of Everlasting-Argan Night Serum Oil
To end off our review for Everlasting-Argan Night Serum Oil by Lovely Lady Product, we very much liked that this night serum only contained pure ingredients in their natural forms and that it was packaged in an airtight container. While there were some positives, we could not overlook our concerns regarding the effectiveness of this product. With no external evidence to support the potency of these oils and the fact that there was no returns policy - we can't safely say if this night serum would work or not.
Well researched reviews, from the experts at Research & You.