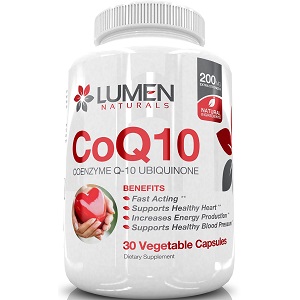 Lumen Naturals CoQ10 - Does It Work?-Review
What is Lumen Naturals CoQ10 200 mg Coenzyme Q10 Ubiquinone?
The following is a review of the dietary supplement CoQ10 200 mg Coenzyme Q10 Ubiquinone by the manufacturer, Lumen Naturals. This manufacturer claims that their health product helps to promote heart health. In addition, it supports energy production and healthy blood pressure.
Ingredients & How It Works
One capsule contains 200 mg of Coenzyme Q10 (ubiquinone). Ageing affects the ability to produce CoQ10, resulting in a drop in energy levels, together with lowered heart and brain health.
Other inactive ingredients include cellulose (vegetable capsule) and rice bran. The rice brain is a filler, and offers no actual value. These capsules are gluten, dairy, and soy free, also GMO free. CoQo10 is not readily absorbed, therefore the addition of an agent such as black pepper or an oil, can help overcome this problem. This supplement, however, does not contain any such helpful agent.
Daily Serving
Besides following the dosage instructions of your doctor, the manufacturer's suggested dosage is to take one (1) capsule twice per day, 20 to 30 minutes prior to a meal, with 8 ounces of water. This applies to a dose of 400 mg of CoQ10 daily. For best results 250 mg of CoQ10 is needed. Therefore, this product exceeds the safe dosage range.
The Cost
This dietary supplement is available on the manufacturer's website at $36.99 (discounted from $39.99) per 30-capsule bottle. Bulk offers are available on Amazon. When buying two bottles you can save 10%. On four (4) bottles you can get 15% off. On six (6) bottles, you can save 20%.
Guarantee
The manufacturer backs its products with a 60-day 100% money-back guarantee. If not satisfied with the product, buyers may return the remaining amount for a refund. Returns may be made after contacting the service department by email, following their instructions.
Our Review Summary Of CoQ10 200 mg Coenzyme Q10 Ubiquinone
This dietary supplement is backed by a full refund guarantee on which buyers have 60 days to test the product Another benefit of this product is that is made in a facility with a GMP certification. There are, however, some concerns about this product. Firstly, the formula itself is problematic. CoQ10 is not easily absorbed by the body, therefore manufacturers normally add a substance such as black pepper (or the concentrated form BioPerine) to help with absorption. This formula lacks such a substance. In addition, the dosage of the active ingredient is a concern – it is too high. The best dosage level is 250 mg. However, with this formula you will be getting 400 mg. This could place you at risk for health problems ranging from kidney stones to coma. Therefore, even though CoQ10 dietary supplements are good for your heart and brain health, this product's formula is not based on the clinical research studies guidelines and could place your health at risk rather than be beneficial for your health. With so many other, similar products on the market, it may be better to opt for one of those instead of this health supplement.
Well researched reviews, from the experts at Research & You.