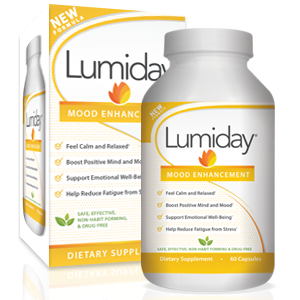 Lumiday Mood Enhancement - Does It Work?-Review
What is Lumiday Mood Enhancement?
The following is a review of Lumiday Mood Enhancement dietary supplement. Lumiday is a mood enhancement supplement formulated to improve your emotional well-being with consistent daily use. The company claims that Lumiday can help boost positive mind and mood, ease stress and tension, reduce stress-related fatigue, and improve concentration and clarity. Lumiday features 12 key ingredients to help keep you calm and relaxed while also boosting your mood. This supplement also helps to keep you alert, mentally focused and offers to improve your overall emotional well-being. Keep to reading to learn if Lumiday Mood Enhancement can help improve your mood and reduce stress.
Ingredients & How It Works
Vitamin D
Thiamin
Niacin
Vitamin B6
Folate
Vitamin B12
Pantothenic Acid
St. John's Wort Extract
L-Theanine
5-Hydroxytryptophan
Ashwagandha Extract
Rhodiola Extract
Lumiday contains 12 key ingredients that claim to help your body resist stress by fighting stress-induced symptoms including vitamin D3, pantothenic acid B5, thiamine B1, niacin B3, vitamin B6, folate B9, vitamin B12, L-theanine, 5-HTP, St. John's Wort extract, Rhodiola Rosea extract and ashwagandha extract. These 12 ingredients also help to naturally increase dopamine production which helps to elevate your mood.
Daily Serving
Take two capsules of Lumiday per day. The company website says that the supplement is all natural and very safe to use with no serious side effects reported. It says that if you suffer from a medical condition or are currently taking medication it is advised to consult your doctor before using this product. This product is not intended to help people with serious psychological conditions.
The Cost
The price of Lumiday on the manufacturer's website is $69.99 for one bottle plus shipping. This price might be a turn off for many people especially since at 2 pills per day, one bottle is only sufficient for 15 days of treatment. This level of pricing will certainly be prohibitively excessive for many people on a fixed budget. There is an auto-ship program available if you would like to purchase Lumiday on an ongoing recurring basis.
Guarantee
Lumiday comes with a limited return policy.The company website explains that have 30 days in which to postmark your returned package in order to receive your refund. This also includes open bottles of Lumiday. Shipping charges are not reimbursed. Trial bottles are not subject to return.
Our Review Summary Of Lumiday Mood Enhancement 
There were several things we liked about Lumiday Mood Enhancement. We liked that the ingredients are all natural and contain no artificial chemicals. We also liked the 30 day limited guarantee and return policy which even included open bottles of capsules. It's questionable however if 30 days is a long enough time to know if the supplement is working for you or not.  There was a very clear and detailed FAQ section on the website which offers a lot of information and is very helpful to a prospective consumer. The downside for us though is the high price. At $69.99 per bottle and considering one bottle only contains 30 capsules and you are required to take 2 capsules a day, this product will only last you 15 days. Unfortunately, the price of the product is way too high when compared to similar products that are available to treat stress and anxiety. Almost a third of Amazon reviewers stated that they were not satisfied with this product. For these reasons we are not able to recommend Lumiday Mood Enhancement capsules.
Well researched reviews, from the experts at Research & You.