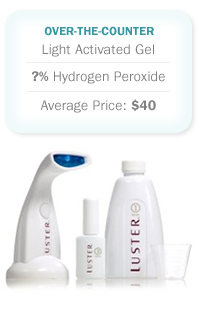 Luster 1 Hour White-Review
Whitening your teeth is by no means an easy job and Luster 1 hour White promises to raise the luster of your teeth by making them several degrees lighter than they currently are. Importantly, the company has priced its products reasonably, which accounts for its growing popularity among prospective users.
About the Product
In keeping with its name, the product promises to whiten your teeth, with a professional quality treatment, in the relatively short span of an hour. Luster 1 Hour White comes equipped with a light similar to the one dentists use; the light is meant to hasten the chemical process in the whitening gel to ensure that you get brighter teeth in the shortest possible time.
How it Works
This product makes a huge promise by claiming that your teeth will get six shades lighter, within 60 minutes, on the back of a single application of the gel. This claim compares favorably with those of competitors' products, none of which promise more than three shades of improvement in the degree of whiteness; even dentists accomplish only the fourth or fifth stage at best. To put this claim in perspective, six shades of brightness would have you rubbing shoulders with celebrities and film stars. The fact that a dentist invented this system imparts a degree of credibility to the company's claim. Another great attraction to a prospective buyer of this product is that it promises its results within an hour. This kind of speedy treatment is not delivered even by dentists. The company also vouches for the safety of the product by claiming that it does not cause any sensitivity, something that even a dentist cannot guarantee. Real users of Luster 1 Hour White have confirmed the company's claim that the product does not cause sensitivity. The real reason for the buzz this product has created is the fact that it claims to deliver better (light) technology at an affordable price.
How Much it Costs
The Luster 1 Hour White kit sells for $45 on Amazon -- an incredible bargain. To put things in perspective, a comparable competitor's product retails for $250.
How You Make it Work
An hour is not a huge duration of time to have to commit, in order to receive state of the art whitening of teeth. You can end up saving on the time you would otherwise spend to go to a dentist, apart from the money spent on professional treatment that would not guarantee the best results. So in terms of technology, time and price, this product is an attractive proposition.
Final Review
Many real users have reviewed the product and most appear to be happy with it and claim that it works. This is not to say that there are no negative reviews; as it happens, many people set the bar of expectation very high, no matter what the product might deliver, and they are unlikely to be satisfied with anything. Some users have said the product doesn't last long enough; it's possible that such users did not adhere to the directions of use. One sure way of satisfying ourselves that the product really works is to take a look at "before" and "after" pictures of real users. Such photos are available and in one instance the results were photographed with about the half the treatment left to go and said results were very impressive. The combination of price and delivery that this product brings to the table is too good to resist. To put things in perspective, Crest Whitestrips costs much more but does not deliver the light technology -- similar to the one used by dentists -- that Luster offers. If you adhere to the company's instructions of use, you are bound to get value for money.
Well researched reviews, from the experts at Research & You.