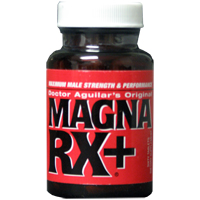 Magna RX-Review
Magna RX is for the growing tribe of people who are worried about becoming less virile and the effect this fact is likely to have on their love life.
About the Product
The introduction of Viagra was motivation enough for the manufacturers of hundreds of products that have since flooded the market as natural alternatives to pharmaceutical drugs. These products while promising to restore your manhood also claim they will help you accomplish a bigger erection than ever before. They also promise to address any other sexual problems, such as not being able to sustain a hard erection for long enough to satisfy your partner. But the question is, is a single pill capable of resolving the problem?
How it Works
Among the claims made by the promoters of Magna RX, the most interesting one must be when they promise to make you the lover your partner will never ever forget. That is an offer that no male can arguably resist. This marketing appears to be based on preying on a man's subconscious desires and on reminding him of the occasions when he failed to satisfy his partner. It could also remind him of any girl that left him for another "better performer". By using adjectives like "massive", "pulsating", "explosive" and "pure" to describe the noun manhood, Magna RX's advertising makes all the right noises that appeal to male instinct. The promoters claim that along with the hard enduring erections the pill will bring, it will also boost the user's self-confidence. Having been in the business for more than a decade, the company claims to be well-qualified to address the problem of failing manhood, with a product devised and certified by doctors. Besides being inexpensive, the pill is quick, safe and harmless, and does not call for a prescription, according to the promoters. The product relies on the buzz that male enhancement products naturally tend to create by reminding men of a time they could "perform" well, an ability they have recently lost. Not only will they perform more effectively with a larger organ, their sexual dysfunctions will be a thing of the past, all of this achieved by using a single pill -- the target customer is likely to find the nature of the promise impossible to resist.
How Much it Costs
The company relies on daily deals, at its website, to get people to try out the product at their official site, and it appears to be aimed at giving value for money by charging $45 for two bottles of Magna RX, with 4 other products added, an assortment of pills. A month's supply of the basic pill is offered at $20.
How You Make it Work
With a simple pill form, Magna Rx tries to make it easy for the prospective buyer, who doesn't have to wrestle with exercises, pumps, creams or lotions before he can see results in the form of bigness and performance.
Final Review
The product has received mixed reviews from actual users, with at least one in two people saying it doesn't fulfill its promise. With the remaining 50% making glowing references to the improvement in performance that Magna RX induced, it sounds like a bit of a shill, and a positive inducement for a prospective buyer is the money-back guarantee that goes with it. It's hard to make a positive recommendation or even a negative one with reviews equally divided as they are. But given the natural raw materials in the product, we would still advice you to try it, especially as no deleterious side effects have been observed by any user who has reviewed the product. Don't get your hopes up while trying out Magna RX and just approach it as a sort of scientific experiment. When you don't invest any emotional stake in the results, you are unlikely to be too disappointed if the product doesn't work.
Well researched reviews, from the experts at Research & You.