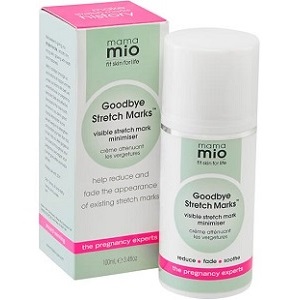 Mama Mio Goodbye Stretch Marks - Does It Work?-Review
What Is Mama Mio Goodbye Stretch Marks?
In the following review, we will be taking a detailed look at a product from Mama Mio called Goodbye Stretch Marks. This product is aimed towards individuals who suffer from unsightly stretch marks that are the result of puberty, pregnancy or fluctuations in weight. The manufacturer of this product claims that their formulation is highly effective because it contains a variety of peptides, enzymes, and oils that nourish the skin. They also claim that their product will help to make the skin appear smoother and less discolored while preventing new marks from forming on the skin.
Ingredients & How It Works
Water Lily Extract
Indian Gooseberry
Seaweed Extract
Additional ingredients like Aloe Barbadensis Leaf Juice, Glycerin, Cyclopentasiloxane, Methyl Glucose Sesquistearate, Aqua and more.
At first, when we first looked at the ingredients included, we were rather impressed, as these ingredients will help to improve the appearance of the skin. However, when we looked at the additional ingredients included in this formula we were shocked by just how many additional ingredients are included in this formula. Most of these additional ingredients are preservatives, fillers, and binders. We are also concerned that all of these additional ingredients would make this product unsuitable for individuals who suffer from allergies.
Daily Serving
The manufacturers of this product recommend that you apply a thin layer of this product on the skin that has been torn only. You should repeat this two to three times daily for at least twelve weeks for optimum results. They also recommend taking a picture when you begin using this product and another picture after twelve weeks so that you can track your progress.
The Cost
This product is available on the manufacturer's online store for $60.00 per bottle. Unfortunately, the manufacturer of this product does not provide any discounts or special offers for bulk purchases. However, if your order exceeds $95.00 you will receive a gift to the value of $75.00.  Additionally, the manufacturer of this product provides free shipping for this product.
Guarantee
We could not find any information regarding guarantees on the manufacturer's website. This is quite concerning as most customers feel reassured about the quality of the product they are receiving if they know that they are guaranteed on their purchase.
Our Review Summary Of Goodbye Stretch Marks
When reviewed this product we concluded that this is an acceptable product that will help to reduce the appearance of unattractive marks on the skin where it has torn. This product contains three excellent ingredients that help to nourish the skin. Additionally, the manufacturer of this product provides excellent instructions and good tips for using their product. However, we are not entirely convinced that this is the best product available for this purpose. This product contains an excessive amount of additional ingredients. Additionally, the manufacturer of this product does not provide any guarantees for their customers. Finally, we believe that this product is very expensive when you compare it to other similar products that are available.
Well researched reviews, from the experts at Research & You.