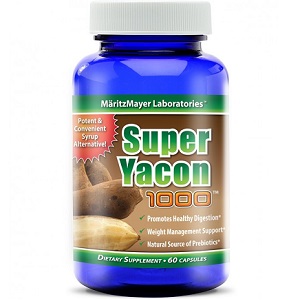 MaritzMayer Laboratories Super Yacon 1000 - Does It Work?-Review
What is MaritzMayer Laboratories Super Yacon 1000?
This is a review of Super Yacon 1000, an all natural supplement made up of pure Yacon.  The Yacon plant grows in South America and has traditionally been valued for its probiotic support.  Yacon assists with the quick and healthy digestion of food and contains Fructooligosaccharide (FOS) which helps with weight loss while boosting the immune system.
Ingredients & How it Works
Super Yacon 1000's primary ingredient is Smallanthus Sonchifolius (Yacon Syrup).
Other Ingredients: Gelatin, Dicalcium Phosphate, and Magnesium Stearate.
Yacon Root, which contains a high amount of fructooligosaccharides (FOS), decreases your appetite and boosts your metabolism.  Two capsules of Super Yacon 1000 have only 1000 mg of Yacon Root while some other Yacon products on the market allow for 1600 mg daily which is the recommended amount for optimum results.
Daily Serving
The dosage is as follows:  adults should take one (1) capsule twice daily 30 minutes before meals with a glass of water.  The product label warns consumers not to exceed this dosage.  Pregnant or nursing mothers, children under the age of 18, and individuals with medical conditions should consult their healthcare provider before using this product.
The Cost
The purchase price for Super Yacon 1000 is $24.95 per bottle for 60 capsules. The manufacturer ships to select international addresses.  Information was provided on the manufacturer's website listing which countries were included.  Third party websites carry the product for $24.14 and it is recommended to shop around online for the most competitive purchasing price available.
Guarantee
The manufacturer offers a satisfaction guarantee policy for both unused and used bottles, and customers may send the bottles back to the company and request a full refund.  Further information about the time frame for the returns should be clarified with the company itself.
Our Review Summary Of MaritzMayer Laboratories Super Yacon 1000
Super Yacon 1000 is a wholesome supplement and an attractive choice for consumers today who are looking to lose weight and get extra assistance in curbing their appetite naturally.  With pictures of the Yacon root on the bottle, one cannot help but appreciate the fact that a root vegetable can be so useful for weight loss.  And MaritzMayer Laboratories offers a satisfaction guarantee which is attractive to consumers wanting to try out the product.
Unfortunately, the product label does not state how much FOS is in the Yacon Root; the recommendation is that it have Yacon Root with pure Fructooligosaccharides (FOS) - 41.39% FOS.  Therefore we don't end up knowing enough about the product.  Additionally, the Yacon Root should not contain the leaf or the seed of the Yacon, and whether this is or is not the case is also not specified.  So without a lot of information and with mixed reviews about this product, both about its effectiveness and complaints that the capsules were too large and caused nausea, we cannot give this product our seal of approval.  Fortunately, there are many other products available with Yacon Root where the total daily milligram amount is 1600, and we know the percentages of FOS.  Plus with great reviews and better satisfaction guarantees, there's good reason to check out those products.
Well researched reviews, from the experts at Research & You.