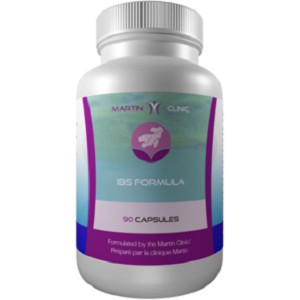 Martin Clinic IBS Formula - Does It Work?-Review
What is Martin Clinic IBS Formula?
This is a review of Martin Clinic IBS Formula. The product is designed to relieve symptoms associated with Irritable Bowel Syndrome (IBS). The manufacturer claims that the supplement will effectively combat bloating, gas, diarrhea, constipation, and abdominal pains. The following information aims to guide your purchasing decision and help you make an optimal product choice.
Ingredients & How It Works
Ginger Root - 75mg
Marshmallow Root -  75mg
Slippery Elm Bark - 75mg
Turmeric Root - 75mg
Hesperidin - 75mg
L-Glutamine - 25mg
Apple Pectin - 0.1g
Lactobacillus Rhamnosus - 5 billion CFU
These ingredients are used in a number of supplements because of their beneficial properties. Ginger Root supplies enzymes which support the digestive system and work to combat cramps caused by IBS. Slippery Elm Bark is used to soften stools and may improve the efficiency at which the body eliminates waste. Turmeric Root is used as an anti-inflammatory and, thus, reduces pain caused by IBS. Hesperidin is argued to support digestive function and reduce the effects of a spastic colon. L-Glutamine assists the body's ability to digest proteins and decreases the buildup of toxins. Apple Pectin can improve gut function by repairing damages caused by IBS. Lactobacillus Rhamnosus is one of the essential probiotics that alleviates pain and balances bacteria in the gut. These ingredients, while beneficial, are not the only substances used in competitor products on the market. Other formulas include additional probiotics for optimal benefit. It is concerning to note that the product was not manufactured in a cGMP certified facility. This suggests that quality is not a priority during the production process.
Daily Serving
The manufacturer recommends taking two (2) capsules three (3) times per day. They do not state if capsules should be consumed with meals or at which times of the day. Each serving supplies a sufficient dosage of the main ingredients. That said, there are a number of competitors that contain higher dosages for improved results. Individual dosage testing is required to determine how to achieve the best results, however, this can only be done after purchasing the product.
The Cost
The product retails on Martin Clinic's online store. A bottle of 90 capsules will cost you $39.97. This price is comparatively higher than alternatives on the market. Frequent use is likely to become extremely costly, especially considering that one bottle will last one month. It is very concerning to note that there are no bulk-buy deals to encourage prolonged use.
Guarantee
The manufacturer offers a 30-day guarantee on product purchases. Our concern about this guarantee is that partially used products are not eligible for a refund. This suggests that Martin Clinic is not confident in the product efficacy. Another concerning factor is that there are insufficient customer reviews to support the effectiveness of this product. This makes it very difficult to rely on this product for relief from IBS.
Our Review Summary Of Martin Clinic IBS Formula
This product contains a beneficial formula of ingredients known to combat symptoms associated with IBS. The product is sufficiently dosed and supported by a guarantee. These factors aside, the product is not an ideal purchase choice. The guarantee does not apply to used products. This indicates a lack of confidence in efficacy. There are limited customer reviews to support the product's results and the price is comparatively more expensive than several competitors. Therefore, we do not recommend Martin Clinic IBS Formula.
Well researched reviews, from the experts at Research & You.