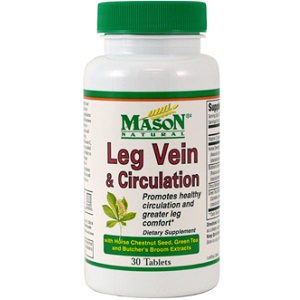 Mason Natural Leg Vein & Circulation - Does It Work?-Review
What is Mason Natural Leg Vein & Circulation?
The following is an informative review for Mason Natural Leg Vein & Circulation that explores all the real facts. The manufacturer claims that this product will help to encourage healthy circulation and also claims to provide improved leg comfort.
Ingredients & How It Works
Vitamin C - 240 mg
Horse Chestnut Extract - 300 mg
Butchers Broom Extract - 200 mg
Citrus Bioflavonoid Complex - 200 mg
Green Tea Extract - 100 mg
Vitamin C is required for the correct development and function of many parts of the body such as healthy immune function. Horse Chestnut Extract helps to thin blood and can be used to treat varicose veins and blood circulation problems. Butchers Broom Extract contains chemicals that can narrow blood vessels and improve circulation in the legs. Citrus Bioflavonoid may help support circulation and also acts as an antioxidant. Green Tea Extract is beneficial as an antioxidant and it may help protect blood vessels and the heart.
Daily Serving
The recommended dosage for this dietary supplement suggested by the manufacturer advises that adults should take two tablets per day along with meals. It is cautioned that you should first consult a doctor if you are pregnant, nursing or taking any medications and it is considerably concerning that most of the ingredients used could cause a list of potential side effects such as dizziness, headache, stomach upset, itching and nausea and therefore, it may not be a suitable product for everyone.
The Cost
You can purchase one bottle containing 30 tablets of Mason Natural Leg Vein & Circulation online and the manufacturer provides a list of suggested third-party retailers to purchase from such as Amazon. One bottle of this product should cost you roughly $10.05 and there seem to be no discounted options according to most of the suggested online retailer's websites.
Guarantee
The manufacturer does not provide any kind of money back guarantee for this product which is extremely concerning and although certain retailers may provide guarantees, this shows that the manufacturer is not completely confident in this product which is also disappointing.
Our Review Summary Of Mason Natural Leg Vein & Circulation
This may initially appear to be an alright product when considering that it does use some good ingredients that might be beneficial for vein and circulation health and it also seems to be somewhat simple to use. However, further inspection of Mason Natural Leg Vein & Circulation, unfortunately, shows that it is not entirely a suitable product because most of the ingredients used can potentially cause a number of unpleasant side effects including allergic reactions. This is also an unrealistically cheap product with no manufacturer's guarantee which questions the quality standards and the effective results that it may be able to offer and therefore, you should rather opt for a similar but more suitable product that is available from trusted leading brands.
Well researched reviews, from the experts at Research & You.