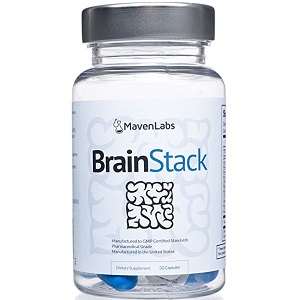 Maven Labs BrainStack - Does It Work?-Review
What is Maven Labs BrainStack?
The following review is on the product BrainStack by Maven Labs. This all-natural supplement claims that it supports cognitive function, and helps with memory and concentration. The manufacturer claims that this product supports neurotransmitters within the brain, which foster the above functions.
Ingredients & How It Works
The ingredients in this formula are:
GPC Choline (175 mg)
Huperzine A (150 mg)
Hericium Erinaceus (300 mg)
L-Theanine (120 mg)
Caffeine (60 mg)
Bacopa (200 mg)
Pterostilbene (50 mg)
Mucuna Pruriens (200 mg)
GABA (200 mg)
Vitamin B6 (15 mg)
Vitamin B12 (100 mcg)
Acetyl-L-Carnitine HCL (300 mg)
Magnesium Glycinate (200 mg)
Vitamin B6 helps with normal brain development and functioning. It also assists with the production of serotonin and norepinephrine. Vitamin B12, together with vitamin B6, controls the homocysteiene in the blood. Hericium Eranceus Powder enhances neurite outgrowth in the brain, and affects neuro-degenerative diseases. Bacopa  is used to improve memory and to treat Alzheimer's disease and dementia.
Some ingredients are of very low-dosage. For instance, L-Carnitine in the BrainStack supplement is only 300 mg, however, research has shown that, for this nutrient to be effective, one needs at least 500mg. In addition, the inclusion of caffeine is problematic: this is a stimulant. Although energy levels may be increased, there is likely to be a later drop in energy, leaving one even more tired.  Huperzine A aids the memory; however, intolerance to this ingredient may be built up, making it ineffective in the long term.
Daily Serving
The recommended dose, according to the manufacturer, is one capsule daily each morning, with food. However, the dose may be increased to 3 or 4 capsules daily, if needed, as long as no more than 8 capsules are taken within a 24-hour period.
The Cost
BrainStack, by Maven Labs, costs $39.99 per 32-capsule bottle on some third-party sites. This product is, however, strangely enough, not available on Amazon.
Guarantee
The manufacturer offers a 60-day money-back guarantee. This policy is applicable to unopened bottles only.
Our Review Summary Of BrainStack
BrainStack, by Maven Labs, is a dietary supplement produced from natural ingredients. It comes in an easy-to-take capsule format of just one a day. Furthermore, the product is backed by a 60-day return policy. However, the return policy is restricted to unopened bottles only; which means that the product may not be tested for efficacy.
The ingredients, although plentiful, do not meet the standard set by scientific research indicating minim dosage for effectiveness. In addition, there are ingredients in this formula to which one may build up immunity, and which renders the product less than effective in the long term.
Well researched reviews, from the experts at Research & You.