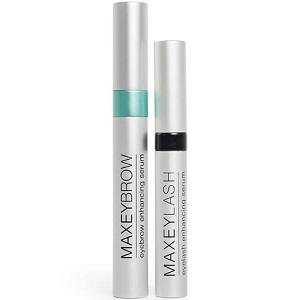 MaxeyLash & MaxeyBrow Set - Does It Work?-Review
What is MaxeyLash & MaxeyBrow Set?
The subject of this review is for two products that are sold as a set, called MaxeyLash & MaxeyBrow. These products aim to provide length, fullness, and darkness to lashes and brows. To find out more about this MaxeyLash & MaxeyBrow Set and to see if these products can make a difference for you, read our informative review below.
Ingredients & How It Works
Aqua
Hydrolyzed Glycosaminoglycans
Acrylates/C10-30 Alkyl Acrylate Crosspolymer
Phenoxyethanol
C12-15 Alkyl Benzoate
Caprylyl Glycol
Panthenol
Alcohol
Biotin
Sodium Hydroxide
Isopropyl Dihydro Noralfaprostal
Sodium Hyaluronate
Phenethyl Caffeate
The manufacturer claims that these products are formulated in a liquid base, which is colorless and odorless. Each product contains active ingredients that have been scientifically formulated. The lashes should present length, volume, and darkness, whereas the brows should present fullness, thickness, and darkness after as little as a few weeks. We are unsure if both products contain these ingredients listed above or if it is only the lash serum's contents. Nonetheless, the product does not contain any patented ingredients or essential ingredients such as pea sprouts or marsula oil. When comparing the product to other brands, we do not believe it will be as effective.
Instructions
Each product comes in an individual tube with its very own applicator. The manufacturer recommends that the user first gently remove all makeup and cleanse the face. The products should be applied daily. Apply a thin line of the MaxeyLash to the root of the eyelashes (upper and lower) and the MaxeyBrow to the root of the eyebrows.
The Cost
For a 3 ml tube of MaxeyLash, it will cost $95.00 and a 5 ml tube of MaxeyBrow will cost $125.00. If you wish to purchase the products as a set, you will pay a total of $199.00. Unfortunately, there are no bundle deals available.
Guarantee
The manufacturer offers their customers a 90-day risk-free money-back guarantee. The product must be returned with the original packaging for the manufacturer to process the refund. This return policy does not state the condition the product should be in upon returning it. As a result, your refund may be refused if returned opened or used. This is a weak guarantee due to the lack of crucial information.
Our Review Summary Of MaxeyLash & MaxeyBrow Set
We have completed our analysis of this MaxeyLash & MaxeyBrow Set, and we have found a few positive aspects as well as a few negative aspects. We really appreciate the fact that the manufacturer provides clear and helpful instructions to ensure the customer knows exactly when and how to apply the product.
However, there seem to be more negative points. First of all, the product does not contain any patented ingredients that are backed by clinical studies, the manufacturer does not state the main active ingredients, and the product is lacking key essential and natural ingredients. Furthermore, the manufacturer does not offer discounted bundle deals. Finally, the guarantee does not seem very strong as important information is lacking. Due to these reasons mentioned above, we do not recommend the use of the MaxeyLash & MaxeyBrow Set.
Well researched reviews, from the experts at Research & You.