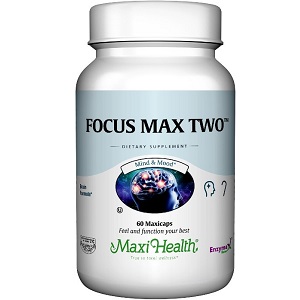 Maxi Health Focus Max Two - Does It Work?-Review
What is Maxi Health Focus Max Two?
With the fast-paced lifestyle, many people lead today, a sharp mind and keen memory are more important than ever. As many people struggle to concentrate, brain boosters or smart drugs have been developed to hopefully assist those experiencing problems. This is a review for Maxi Health Focus Max Two a dietary supplement that claims that it can help those individuals who can't quite seem to fully focus, by making their minds and moods function at their best levels.
Ingredients & How It Works
Vitamin B-12 (as methylcobalamin)    
Ginkgo biloba (leaf) extract
Lecithin
Phosphatidylserine (from soy)    
Acetyl-L-Carnitine (as Acetyl-L-Carnitine HCl)    
Other ingredients in this brain booster include; Vegetable cellulose (capsule), rice flour, magnesium stearate, Enzymax (calcium carbonate, bromelain, papain, lipase, amylase, protease, silica). The product information further states that this product is safe for vegan consumption.
The active ingredients in this product are said to assist with memory, mood and mental functions. Vitamin B-12 can assist the body to maintain healthy red blood cells as well as nerve cells. However, this supplement contains 500 mcg of B-12 - this is slightly concerning as the Recommended Dietary Allowance (RDA) in micrograms (mcg) for vitamin B-12 (for individuals over the age of 14-years is 2.4 mcg per day. Ginkgo biloba is a plant that has been used in traditional medicine to help promote cognitive function. Lecithin has been known as a brain food and has been used for mental disorders and illnesses. Phosphatidylserine is naturally found in brain cells, but this product includes the compound derived from soy. Acetyl-L-Carnitine is believed to promote aged brain function.
Daily Serving
According to the information present on the supplement's label, you should take two MaxiCaps (capsules) on a daily basis with meals or as directed by a medical professional. It is also important to note that if you are pregnant, breastfeeding, on any blood thinning medication or if you suffer from any medical condition, you should seek the advice of a doctor before using this brain booster.
The Cost
At present time you can purchase this product online from Amazon. For one bottle, containing 60 capsules, you are looking at a price of $54.46. We also noticed that stock levels were very low and that there were no special offers or bulk packages available on this product. This worried us, as you would not be able to restock if when using this product, especially at such a high price.
Guarantee
As the manufacturer does not sell this product directly from their website, they did not have a returns policy in place. If you would like to return this product you would have to adhere to the guarantee Amazon has in place. This states that some types of unopened products may be returned within 30 days.
Our Review Summary Of Focus Max Two
In conclusion. We liked that this product was vegan-friendly and that it includes some ingredients that have been previously used to help improve cognitive function. However, we did not like that the amount of Vitamin B-12 seemed very high, that the price of this product was quite expensive and that the lack of a guarantee from the manufacturer showed little confidence in the product. 
Well researched reviews, from the experts at Research & You.