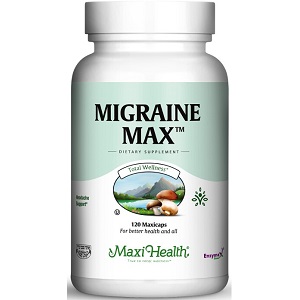 Maxi Health Migraine Max - Does It Work?-Review
What is Maxi Health Migraine Max?
In this review, we have assessed the product Maxi Health Migraine Max. The manufacturer of this supplement claims that the safe and gentle formula will deliver effective relief from migraines. They argue that this gluten-free and vegetarian product is of a high quality. We have considered factors that contribute to the reliability of this product in supplying optimal relief from migraines.
Ingredients & How It Works
Riboflavin (Vitamin B2) - 200mg
Vitamin B6 - 25mg
Pantothenic acid - 600mg
Magnesium - 600mg
Bromelain - 300mg
Butterbur extract - 400mg
Coenzyme Q10 - 100mg
Ginger root extract - 100mg
Feverfew 4:1 extract - 400mg
Riboflavin plays an essential role in the development of cells. In doing so, it prevents nutrient deficiencies from causing severe headaches and health problems. Vitamin B6 plays a role in the production of serotonin, which is a neurotransmitter that assists the body's ability to deal with pain. Pantothenic acid is used in the body to help adrenal glands produce stress hormones which combat pain and fatigue. Magnesium deficiencies are known to be a primary contributor to headaches and, therefore, the supplementation minimizes this risk. Bromelain has anti-inflammatory properties that reduce swelling and associated pain. The additional ingredients provide soothing properties that help reduce the impact of migraines. This supplement contains essential ingredients that are common to competitor products on the market. It is disappointing to note that this product was not manufactured in a cGMP certified facility. These certifications are awarded to companies that have a high-quality production process and the lack of one brings product effectiveness into question.
Daily Serving
The manufacturer recommends taking four (4) capsules daily with meals. They do not stipulate if this should be done in the morning or evening. Each serving supplies a sufficient quantity of the included ingredients. This may prove beneficial, however, the lack of several supportive ingredients will likely render this dosage inferior to competitor products on the market.
The Cost
This product cannot be purchased from the manufacturer. It is stocked by third-party sites. The prices vary and potential customers will need to spend additional time researching the best possible deals. This could become a time-consuming endeavor. On one site it retails for $44.82. This is at a substantial 35% discount, however, is still an extremely expensive price to pay. Customers who wish to purchase this product for long-term use are not encouraged with bulk-buy deals. There are several more affordable alternatives on the market.
Guarantee
Product purchases are not supported by a manufacturer guarantee. Guarantees are entirely dependent on the third-party retailer, however, generally don't apply to used products. This implies a lack of confidence in the product efficacy. It is concerning to note that there are few customer reviews for this product. This suggests that it may be an unpopular choice and makes it difficult to ensure its effectiveness.
Our Review Summary Of Maxi Health Migraine Max
There are some positives to this product. It contains a number of important ingredients for combating migraines. It is also sufficiently dosed. That said, the product is extremely expensive when compared to competitors. It is also not supported by a guarantee. There are very few customer reviews for us to confidently recommend Maxi Health Migraine Max and, therefore, we suggest searching for an alternative migraine support. 
Well researched reviews, from the experts at Research & You.