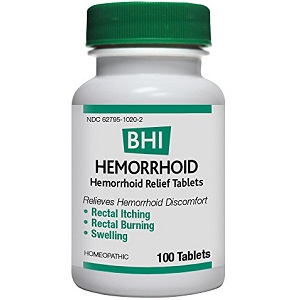 MediNatura BHI Hemorrhoid Relief Tablets - Does It Work?-Review
What Is MediNatura BHI Hemorrhoid Relief Tablets?
This review contains important information about MediNatura BHI Hemorrhoid Relief Tablets. This product is a homeopathic nutritional supplement designed to relieve uncomfortable hemorrhoid symptoms. According to the manufacturer it can temporarily get subdue the itching, burning, swelling and pain that often accompany hemorrhoids. Is this a worthy entrant in the competitive hemorrhoid treatment marketplace? Please read on to find out.
Ingredients & How It Works
MediNatura BHI Hemorrhoid Relief Tablets contains:
Aesculus Hippocastanum - Contains anti-oxidants that can help reduce inflammation and swollen blood vessels.
Aloe Scocotrina - Often used to treat piles. It can reduce burning, itching, and pain.
Collinsonia Canadensis - May help relieve common hemorrhoid symptoms.
Leptandra Virginica - Its cooling properties can sometimes relieve burning and itching caused by hemorrhoids.
Muriaticum Acidum - Often used as a homeopathic remedy for hemorrhoids.
Nux Vomica- Used to treat piles.
Paeonia Officinalis - Another known homeopathic hemorrhoid treatment.
Sulphur - Used to treat hemorrhoid symptoms, such as burning and itching.
MediNatura BHI Hemorrhoid Relief Tablets also contains two inactive ingredients, listed for allergen purposes:
Lactose
Magnesium Stearate
Daily Serving
The daily serving size for this product varies. When beginning use of this product, take one tablet every 30 to 60 minutes until symptoms start to decrease. Once symptoms are under control, take three tablets a day, one every 4 to 6 hours. Do not take more than 12 tablets a day. Children under the age of 18 should not take MediNatura BHI Hemorrhoid Relief Tablets.
The following warnings are listed on the label:
Pregnant and nursing mothers should consult a doctor before using this product
Consult a doctor if condition does not improve within seven days
Discontinue use if bleeding occurs
Discontinue use if allergic reaction occurs
The Cost
MediNatura BHi Hemorrhoid Relief Tablets can be purchased through various websites. On Vitacost.com a 100 tablet bottle costs $10.39. Customers who sign up for "set and save" can save 5% on their future orders. They can choose to have it delivered between every 15 and 120 days. The product can also be found on websites such as Amazon, for as low as $8.76.
Guarantee
The manufacturer offers an empty bottle guarantee for some of its products but it's not clear that it offers such a refund policy for this particular product. Unsatisfied customers can apply for a refund after they have used the entire product by returning the empty bottle. Refunds are only valid for one package. It is possible that refunds only apply towards MediNatura T-Relief, ClearLife, and Reboost products.
If purchased from another website, refunds may or may not be given, depending on the site's policy.
Our Review Summary Of MediNatura BHI Hemorrhoid Relief Tablets
MediNatura BHI Hemorrhoid Relief Tablets seem to be an ok product. While it does not get rid of hemorrhoids, it does provide temporary relief for some of the uncomfortable symptoms. Customer reviews are positive, claiming it works well but, at the time of writing, there were not enough to really draw a solid conclusion about the real-world effectiveness of this product. This could mean it is not popular or that many people do not know about it yet. The formula is all natural, which decreases the chances for adverse side effects, although, rectal bleeding could occur and pregnant women should consult a doctor before using. Our biggest concern is that there does not seem to be any return/refund policy in place for this product.
Well researched reviews, from the experts at Research & You.