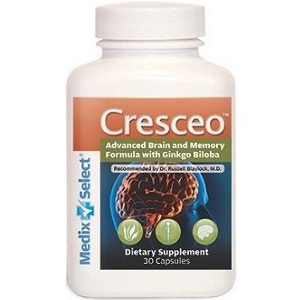 Medix Select Cresceo - Does It Work?-Review
What is Medix Select Cresceo?
This is a review of Cresceo, manufactured by Medix Select. This dietary supplement contains natural brain booster ingredients. The manufacturer claims that these ingredients help support healthy brain functions, reduce memory loss, and enhance cognition. It is important to always be sharp and focussed, no matter what work you are doing - that is why the manufacturer designed this product. To learn more about Medix Select Cresceo, read our review below.
Ingredients & How It Works
Ginkgo Biloba leaf extract
Bacopa Monnieri leaf extract
Phosphatidylserine
DMAE Bitrate
Huperzine A
Leucine
Silicon Dioxide
Microcrystalline cellulose
Vegetable capsule
Medix Select Cresceo contains certain key ingredients which target brain function. Ginkgo Biloba and Huperzine A help prevent memory loss and also improve memory. Bacopa Monnieri helps enhance concentration whilst DMAE increases the fluidity in brain cells. Phosphatidylserine aids in neuron support. Medix Select Cresceo is however lacking other key ingredients including L-Tyrosine, L-Theanine, and Vitamin B Complex. These are essential for reducing stress, enhancing the mood, and increasing energy production in the brain. This product does contain soy.
Daily Serving
The manufacturer recommends taking 1 capsule daily with a meal or by consulting a healthcare professional on the amount you should be taking. It is not stated when the best time of the day would be to take the capsule.
The Cost
Medix Select Cresceo can be purchased online from Amazon. For a 30-day supply, it will cost $39.95 and for a 60-day supply it will cost $89.89. There are no discounts available and no bulk package orders offered by the manufacturer.
Guarantee
After doing some research, we found that the manufacturer does not offer a money-back guarantee for Medix Select Cresceo. There is only a return policy from Amazon. Having a guarantee allows customers to purchase a product with the security of returning it for a refund if the product does not work as the manufacturer indicates. A lack of guarantee may imply that the manufacturer themselves are not too confident about their product.
Our Review Summary of Cresceo
There are some things we like about Medix Select Cresceo. It contains certain key ingredients which target memory loss and comes in an easy to swallow capsule. Unfortunately, there are many negative aspects about this product. The ingredients list still lacks other key ingredients which are essential for energy production, reducing stress, and enhancing the mood. Without these ingredients, Medix Select Cresceo may not be effective. It is unclear what the best time of day would be to take the capsule. As this product is intended for improving energy and brain functions, it would be important that the manufacturer be more specific about this. There are no discounts or bulk packages available. It is also unfortunate that we were unable to find a money-back guarantee. Customers looking for a product to improve brain energy and function would like to have the possibility of using the product and returning it for a refund if it does not work. New customers do not want to have this risk. Due to all these concerns, we do not recommend Medix Select Cresceo. 
Well researched reviews, from the experts at Research & You.