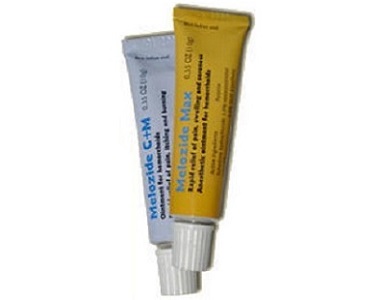 Melozide - Does It Work?-Review
What Is Melozide Max And Melozide C + M?
In this review of Melozide Max And Melozide C + M , we have found that the product consists of two topical ointments that seem to work simultaneously. Melozide Max specifically targets pain, swelling and soreness of hemorrhoids while Melozide C+M targets itching and burning that is associated with hemorrhoids.
Ingredients And How It Works
The manufacturer claims that the active ingredients in Melozide C+M has a cooling effect which soothes inflamed tissues rapidly. It claims to provide instant pain relief and may reduce the swelling rapidly with no skin irritation. It has anti-inflammatory, astringent and antiseptic properties to speed up the healing process and also restores dilated and inflamed veins back to their normal condition.
The active ingredients in Melozide MAX might improve blood flow to the anorectal area and restore damaged tissues. And claims to contain a prescription strength pain relieving treatment for hemorrhoids. Furthermore, the manufacturer claims that Melozide MAX and Melozide C+M are potent anal creams that provide an anesthetic and pain relieving effect at the anal opening and hemorrhoid nodes (the enlargement of the normal spongy-filled vessels cushions in the wall of the anus).
Daily Serving
The manufacturer states that Melozide topically can be applied using the finger. A small amount of the ointment from both tubes should be squeezed onto the finger and then applied to the affected area in a sitting position on the toilet. We recommend you consult your doctor before using Melozide during pregnancy or if you have a serious medical condition.
The Cost
This product can be purchased online at the cost of  $26.90 through the manufacturer's site, this includes free shipping and handling.
Guarantee
The manufacturer offers a money-back guarantee if the consumer doesn't experience fast results within the first 30 days. They simply have to return the unused ointments and the manufacturer will refund the full price that was paid for the product.
Our Review Summary Of Melozide Max And Melozide C + M
In this review of Melozide Max And Melozide C + M, we like that Melozide is shipped discreetly for the privacy purposes of their customers. Unfortunately, there are many more things that we do not like about the product. Firstly, the manufacturer boasts about what the active ingredients in the products can do, however, they do not offer an ingredients list. Furthermore, the manufacturer does not provide the user with clear instructions on the frequency the product should be applied. This may influence the effectiveness of the product. There are no discounts offered. Lastly, the manufacturer fails to offer a money-back guarantee. This supports the fact that the product does not seem to be effective. For these reasons, we do not recommend the use of Melozide C+M & Melozide MAX.
Well researched reviews, from the experts at Research & You.