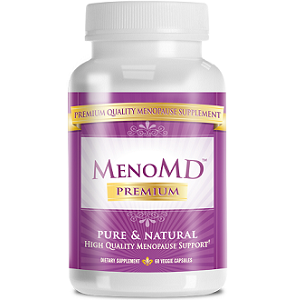 MenoMD Premium - Does It Work?-Review
What is MenoMD Premium?
Menopause is the second major hormone change that occurs in a woman's life that signals the end of her monthly hormone cycle. The final significant change in hormones causes a distinct set of symptoms, that can be uncomfortable. These symptoms include hot flashes, night sweats and mood swings. Taking a daily supplement like MenoMD Premium can help to ease this transition by supporting the women's health and reducing the onset of the symptoms. This particular supplement is manufactured by Premium Certified which uses scientifically research ingredients and is third-party tested to maintain its purity and quality.
Ingredients & How It Works
This supplement is a dual action formula with one set of capsules for taking in the day and one set for taking at night. The daytime formula contains:
Roseroot
Black Cohosh
Chasteberry
Red Clover Flower Powder
Soy Isoflavones
Passionflower Extract
Diindolylmethane
Soy Lignans
Wild Yam
Boron
Tocopheryl Acetate
Protykin
Zinc Difumarate Hydrate
The night time formula contains:
Valerian Root
Hesperidin methyl chalcone
Calcium
Passionflower Extract
5-HTP
Magnesium
Ammonium Succinate
Potassium
Glycine
This supplement contains a number of plant based chemicals that have estrogen-like effects, so they reduce the impact of the hormone changes and thus reduce the symptoms. An example of one of these ingredients is soy isoflavones. The rest of the ingredients help to control the symptoms by reducing anxiety and promoting sleep.
Daily Serving
Customers can take the daytime formula by having one capsule of it in the morning and one capsule in the afternoon. Customers can use the night-time formula by taking one capsule at night. The daily serving of each ingredient is supported by scientific studies and they are all at sufficient dosages.
The Cost
The daytime and night-time formulas can be purchased separately or as a combination. The individual packages cost $48. Two, three, four or six packages can be bought together at a discounted rate:
One of each formula sold as a package costs $80
Three packages together either one formula (three daytime or three night time) or a combination of the two (one daytime, two night time or vice versa) is sold for $91
Four packages in any combination will cost $112
Six packages in any combination will cost $138
Guarantee
If the customer returns the product within 90 days, even if it has been opened or used (giving the customer a chance to try the product) then they will receive a full refund. The idea behind this is that the manufacturer wants customers to be happy with their results and if not, they do not want them to have lost out on money.
Our Review Summary Of MenoMD Premium
There are quite a number of ingredients in this supplement but they have common effects and are scientifically proven as effective. This supplement is therefore likely to help. MenoMD Premium is offered at a reasonable price and comes with a good guarantee- so overall it's a good quality product. Read more about the manufacturer and a few more products they produce. 
Well researched reviews, from the experts at Research & You.