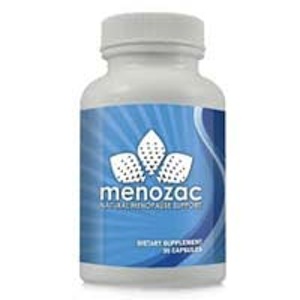 Menozac Menopause Relief Supplement - Does It Work?-Review
What is Menozac Menopause Relief Supplement?
Menopause is a natural stage that every woman goes through, and it can be a very frustrating and trying stage. The hot flushes, mood swings, lethargy, and hormonal imbalances are a nightmare to many women. As such, many manufacturers have come up with supplements that claim to ease this transition. This review takes a closer look at Menozac Menopause Relief Supplement, a non-prescription remedy that claims to help women transition easily. Menozac claims to contain the right proprietary blend of ingredients that eliminates symptoms associated with menopause including vaginal dryness, bloating, and night sweats. This review aims at clarifying the mentioned claims so as to help you determine products worth your money.
Ingredients & How It Works
Vitamin E - 15 IU
Proprietary Blend (Damaiana leaf, Soy seed, Black Cohosh) - 550mg
Other ingredients:
Magnesium Stearate
Microcrystalline cellulose
Gelatin
Water
Silicon dioxide
Vitamin E, a water soluble vitamin can help women cope with the stressful hormonal imbalances that occur during menopause. It can also help alleviate hot flashes. Soy phytoestrogens are isoflavones structurally similar to estrogen. They have the ability to attach to estrogen receptors thereby relieving symptoms associated with menopause. Black cohosh also alleviates menopausal symptoms. Damaiana relieves anxiety and also induces serenity and relaxation.
Daily Serving
The manufacturer does not provide directions for how to take this supplement. However, a serving size is one capsule and a bottle contains 30 capsules so we assume that you should take one capsule a day. Menozac is a 100% natural product with no side effects. Even so, the manufacturer cautions those with liver disease or its history to consult a physician before using the product because of the black cohosh. As such, if you are sensitive to any of the ingredients, please consult a doctor. Also, even though it is not mentioned, pregnant women or nursing mothers should see a health care provider before embarking on Menozac.
The Cost
You can order Menozac online from different third-party retailers. We found a single bottle containing 30 tablets was selling for $49.95 from Q-Based Solutions Marketplace. This is marked down from the list price of $54.95.
Guarantee
If you buy from the above-mentioned store, Menozac comes with a 30-day guarantee. However, the terms and conditions seem complicated.
Our Review Summary of Menozac
From our Menozac Menopause Relief Supplement review, it looks like a genuine supplement dedicated to helping you transit to menopause with ease. The manufacturer provides a list of ingredients which consumers can review to determine the product's worthiness. Also, it comes with a guarantee that promises to refund all your money minus shipping fees. However, this product seems to miss a lot of ingredients that will provide a 24-hour relief of menopause symptoms. There are other supplements on the market that also provide relief for nighttime symptoms which may affect sleep. It may be better to look for products which contain a higher potency of ingredients, rather than a blend, and that also provide relief for nighttime symptoms.
Well researched reviews, from the experts at Research & You.