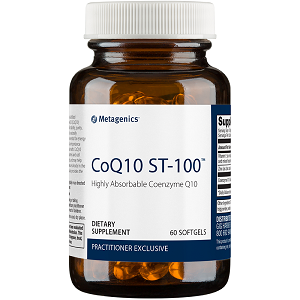 Metagenics CoQ10 ST-100 - Does It Work?-Review
What is Metagenics CoQ10 ST-100?
The following is our review of Metagenics CoQ10 ST-100. It features a stabilized encapsulation of coenzyme Q10. It was manufactured specifically for stability, purity, and bioavailability. It is a necessary substance for energy production. It also can help support cardiovascular health, maintain healthy blood pressure, and provide vitamin E. Continue reading for our full review.
Ingredients & How It Works
Vitamin E - 100 IU
Coenzyme Q10 - 100 mg
Other ingredients include: D-limonene oil, gelatin, glycerin, medium-chain triglycerides, water, turmeric powder, and zinc oxide.
The ingredients contain potent antioxidant properties and cell membrane stabilizing effects. CoQ10 is essential for energy production. It also may even prevent the formation of free radicals. It may even be able to help maintain healthy blood pressure already in the normal range. This product doesn't seem to have an effective amount of CoQ10 though. It needs to be around 250 mg to have an effect. This product is gluten-free and was made in a facility that produces products containing dairy, soy, fish, crustacean shellfish, nuts, and tree nuts.
Daily Serving
It is recommended to take 1 softgel a day or as recommended by your healthcare professional. 100 mg a day of CoQ10 is not an effective dose. If you are pregnant, nursing, taking medication, you should consult your doctor before using this product.
The Cost
You cannot buy Metagenics CoQ10 ST-100 directly from the manufacturers' website. You need to either buy it from a practitioner or on an online seller's site. We were able to find a bottle containing 60 softgels sold for $62.73. Even though this bottle will last you two months, it seems like a very exorbitant price for a product that doesn't even contain an effective dose of the product itself.
Guarantee
Since this product cannot be purchased directly from the manufacturers, they do not back their product with any guarantee. This shows they don't have much confidence in their product's effectiveness. It also doesn't give much confidence to the customer. You will need to discuss with the seller or practitioner you would like to purchase from what their own individual return policies are.
Our Review Summary of Metagenics CoQ10 ST-100
There are a couple of positive things about Metagenics CoQ10 ST-100. The customer reviews we found were mostly positive. Customers said that their blood tests and physicals have shown fantastic results. One customer even said that it helped them with their asthma. There are a couple of negative things about this product as well. It doesn't have a high enough amount of CoQ10 to make this product as effective as it could be. It also is very expensive in relation to the amount of CoQ10 per softgel. In addition to all of that, the manufacturers do not provide a guarantee since it can't be purchased directly from them. This shows that have very little confidence in their product's effectiveness. It also does not allow the customer to have a risk-free buying experience. We feel you can find a more effective product elsewhere.
Well researched reviews, from the experts at Research & You.