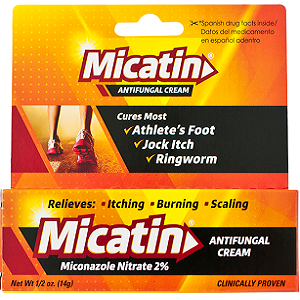 Micatin Antifungal Cream - Does it Work?-Review
What is Micatin Antifungal Cream?
Micatin Antifungal Cream is a formulation of the active ingredient Miconazole Nitrate in the form of a topical cream. This topical cream is aimed at treating the symptoms of Athlete's Foot, Jock Itch, as well as Ringworm, which include burning, itching and scaling skin. We look into the positive and negative aspects of this product to determine whether or not it is a solution for fungal skin infections or not.
Ingredients & How it Works
Main Ingredient:
Miconazole Nitrate has been clinically proven to attack and disable the activity of fungal infections which are found in the skin. As this ingredient is an active ingredient, we wonder why there is only a 2 % concentration of the ingredient. What also concerns us is the fact that there is a lack of Undecylenic Acid, which is actually proven to be the strongest antifungal on the market.

Undecylenic Acid may be concentrated at 25% which allows it to work at maximum potency.

Other Ingredients:
Benzoic Acid
Butylated Hydroxyanisole
Mineral Oil
Pegicol 5
Oleate
Pegoxol 7 Stearate
Purified Water
Daily Serving
Those using this product to treat Jock Itch should apply the cream on a daily basis, whereas those using this product for the treatment of Athlete's Foot or Ringworm can apply the cream on a daily basis but over a period of 4 weeks. Athlete's Foot and Ringworm sufferers should pay close to attention to the skin between the toes and are advised to change their shoes and socks once a day.

To apply the cream, wash and thoroughly dry the site of infection and apply a small amount of the cream to it in the morning and in the evening, or as directed by your doctor.

The manufacturer warns that should this product be ingested, that a poison center be contacted immediately and that should adverse reactions occur. They also state that should
The Cost
A 0.5 oz tube of Micatin Cream is sold online for $7.49 directly through the manufacturer's website, as well as many different third-party online retailers.
Guarantee
The manufacturer offers a return or refund policy whereby the unhappy customer may return their product within a 30-day period. The customer service department will need to be contacted by email or called in order to process the refund. No information is given as to what condition the product needs to be returned in.
Our Review Summary of Micatin Antifungal Cream
In this review of Micatin Antifungal Cream, we like that this product is easy to use and that it can address Jock Itch as well as Ringworm besides for Athlete's Foot, but all in all, we also need to take into account that this product lacks very important aspects of being a reasonable product. The fact that is protected by a very short guarantee period and lacks the ingredient Undecylenic Acid are the main areas of concern. Micatin Antifungal Cream also contains many other additives which may weaken the blend.
Well researched reviews, from the experts at Research & You.