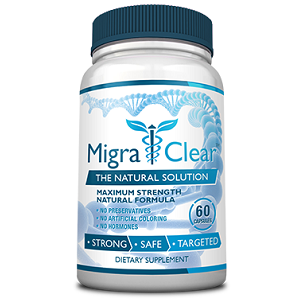 MigraClear - Does It Work?-Review
What Is MigraClear?
Poorly understood and devastating, migraines affect millions of people. They can have many causes and, ideally, any treatment should address them all. Today we review MigraClear, a nutritional supplement that works to shorten the duration of migraine attacks, lessen the pain and severity when they occur and help prevent them from coming back.
Ingredients & How It Works
Primary Ingredients
Magnesium
Ginger
Black Pepper
Wild Yam Root
Bromelain (From Pineapple)
Secondary Ingredients
Gelatin
Magnesium Stearate
Calcium Carbonate
This impressive list is all-natural with no added fillers, colorants or flavorings. The ingredients work to address many aspects of migraine control, fighting inflammation, muscle spasms and nausea. It contains black pepper to aid absorption. MigraClear is produced in the United States in an FDA registered cGMP certified factory, so we feel secure about the safety and potency of each element on this list.
MigraClear works to ease migraine symptoms and correct the underlying imbalances that may cause an attack.
Daily Serving
For continuing use take two capsules three times daily. For maintenance take two capsules daily, one morning and evening, with food.
The Cost
MigraClear is available online only. From its secure website, the manufacturer sells the product in one, two, four, and six-bottle packs, with significant discounts for bulk buying. At the time of this writing, one bottle was $49.95, two $69.90 ($24.95 per), and you could buy four bottles for $111.80 ($27.95 per). The best deal is the six-pack with a total cost of $280.00 ($23.30 per), a savings of $26.65 per bottle.
MigraClear accepts major credit cards, PayPal and payment through Amazon. The buyer may choose between the US Post Office for standard shipping and FedEx or UPS for expedited delivery.
Guarantee
Migraine sufferers are desperate for relief. A shoddy product or an unscrupulous manufacturer can make coping all the more difficult. That is one reason we look for a sound guarantee. To us, this indicates a company that believes in and is proud of its product.
MigraClear offers a solid and unconditional guarantee. If, for any reason, a customer is dissatisfied with the product it may be sent back for a full refund within 60-days of the time of purchase. We were impressed that the policy extends to opened as well as unopened bottles. Few manufacturers do this, for opened products are useless to them and cannot be resold. That MigraClear does so indicates that it puts the customer first.
Our Review Summary Of MigraClear
Migraines are surprisingly common but real relief is rare. That is why it pleased us to find a product like MigraClear. Its list of natural ingredients contains elements that can help combat migraines on all fronts while working to prevent their recurrence. Unlike many competitors, MigraClear is produced in a cGMP certified factory convincing us of the purity of the product and leaving us certain that the supplement will not trigger the very event it is supposed to cure. Thanks to the manufacturer's excellent bulk purchasing deal, customers can treat and prevent migraines for up to six months without the worry of reordering. Finally, the guarantee is solid, giving consumers confidence to try MigraClear without risk. We recommend this product.
Well researched reviews, from the experts at Research & You.