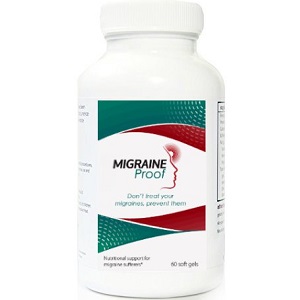 Migraine Proof - Does It Work?-Review
What is Migraine Proof?
The subject of this review is for a dietary supplement called Migraine Proof. This product is designed with the aim of helping with nutritional deficiencies that many migraine sufferers have. Find out more about the ingredients in the product Migraine Proof and see if the benefits are enough for you to try this product.
Ingredients & How It Works
Riboflavin (vitamin B2)
Omega-3 fish oil (EPA and DHA)
Migraine Proof claims to contain a proprietary blend of ingredients that provide nutritional support to persons suffering from migraines. Riboflavin helps with the growth of red blood cells and helps the body get energy from the food one eats. The fish oils provide cardiovascular and blood vessel benefits. From the research we have done, it seems like this product does not contain specific key ingredients that have been proven to be effective. The list includes magnesium, feverfew, and butterbur. In addition to this, the product does not contain piperine which is essential for increased bioavailability. Many other brands contain these clinically proven ingredients. Lack thereof may result in a less effective supplement.
Daily Serving
The user is recommended to take 1 capsule two times a day. The product should provide results within the first 30-days. The supplement can be used with prescription migraine medication or by itself. These instructions are not very clear as the user does not know if the supplement must be taken with a meal or on an empty stomach. Lack of crucial information like this may result in a product that fails to provide the best results.
The Cost
The product can be purchased online from the manufacturer's website or from other online retailers such as Amazon. A one month supply will cost $19.99 and a 3 month supply will cost $54.99. This only provides a very small discount of $4.98. Nonetheless, this is a very low price and may indicate low-quality ingredients.
Guarantee
The manufacturer does not seem to offer a money-back guarantee. Lack of guarantee may indicate that the manufacturer does not believe in the effectiveness of their product. Consequently, customers will be at risk when making a purchase with this manufacturer.
Our Review Summary Of Migraine Proof
In concluding our review of Migraine Proof, we have found that the manufacturer provides a discounted bundle deal for their customers.
However, there are many more things about this supplement that we do not like and which must be addressed. First of all, there is a lack of clinically proven ingredients that may leave the product behind other brands that do contain these ingredients. Furthermore, the manufacturer does not provide clear usage instructions. Finally, the manufacturer does not back their products with a guarantee and customers will not be able to return products that do not work for a full refund.
Due to these aspects mentioned above, we are unable to recommend the use of Migraine Proof. There are many more alternatives on the market to choose from that provide solid guarantees and also contain clinically proven ingredients.
Well researched reviews, from the experts at Research & You.