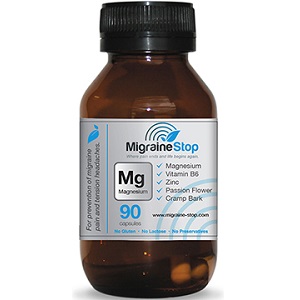 Migraine Stop - Does It Work?-Review
What is Migraine Stop?
This is a review of a product called Migraine Stop, which is an all-natural dietary supplement designed to provide relief to those who suffer from migraines. The manufacturer claims that this product has helped numerous individuals who suffer from mild and severe migraines. When consumed every day Migraine Stop helps prevent migraines as time goes on. Its effective ingredients make it possible for you to experience fewer severe migraines after about two weeks.
Ingredients & How It Works
  Magnesium Acid Chelate
  Magnesium Citrate
  Magnesium Orotate
  Folic Acid
  Vitamin B6
  Vitamin B3
  Viburnum Opulus
  Passion Flower
  Zinc Amino Acid Chelate
Low magnesium is associated with migraines and other types of headaches, hence its inclusion in a migraine-preventing product is important. It is responsible for stabilizing blood pressure and helps support healthy nerve function. Vitamin B6 and Folic Acid help the immune system to generate antibodies that are desired to combat illnesses. Viburnum Opulus has an ability to relieve muscle cramps. All these and other ingredients contained in Migraine Stop work together to relieve you from your migraine.
We notice that this product lacks important and powerful ingredients that effective migraine products contain, such as Feverfew and Butterbur. It would have been more effective if these were included.
Other ingredients are Vege Caps, Silica and Magnesium Stearate.
Daily Serving
The recommended dose is two to three capsules a day for adults, and one to two capsules per day for children over ten years of age.
Migraine Stop is safe for pregnant and breastfeeding individuals. The manufacturer recommends that you take your dose with meals in the morning and in the evening. Those who are sensitive to consuming capsules can empty the contents of the capsules into a seasoned drink or mix it with an apple juice. You will still get the same results.
The Cost
The manufacturer sells Migraine Stop online for $49.95 a bottle containing 90 capsules. You get 10% off when you subscribe for automatic refills. Shipping is not charged for customers buying from USA, while international customers are charged $25.00 for shipping. Third-Party retailers also sell this product for $49.95, but they do not offer any special discounts.
Guarantee
The manufacturer offers a 100% money back guarantee. If you are unsatisfied with this product, you are encouraged to contact the manufacturer and they will do their best to assist you. Should you not be satisfied even after they tried to help you, they promise to provide you with a full refund. The guarantee is for 365 days.
Our Review Summary of Migraine Stop
Since Migraine Stop is made from all natural and scientifically proven ingredients, it is a promising product in providing you with relief from migraines. The 365-day money-back guarantee makes it easy to believe that the product works. Our big concern is that the ingredients that are known to be effective in providing relief and preventing migraines are not included. The lack of these ingredients could alter the effectiveness of the product.
We are also concerned about the negative reviews from customers who have purchased and used this product. Many of them did not see any difference in their migraines after using it. In addition to that, the price of this product is too high, especially considering that it lacks some ingredients.  We recommend that you look for something that costs less, and one that includes the powerful ingredients for migraine. 
Well researched reviews, from the experts at Research & You.