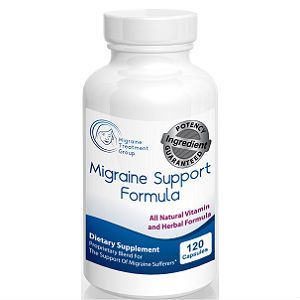 Migraine Treatment Group Migraine Support Formula - Does It Work?-Review
What is Migraine Treatment Group Migraine Support Formula?
This is a product review of Migraine Treatment Group Migraine Support Formula. This supplement is formulated to build a natural defense against migraine conditions and triggers. The company that manufactures this product states that it will safely reduce the frequency and intensity of headaches. The following information outlines whether or not this product can deliver on these claims.
Ingredients & How It Works
Riboflavin - 400mg
Niacin - 60mg
Vitamin B6 - 10mg
Magnesium - 280mg
Ginger Root - 300mg
Coenzyme Q10 - 175mg
White Willow - 150mg
Ginkgo Biloba - 120mg
Feverfew - 100mg
Butterbur - 75mg
Black Pepper - 5mg
This formula contains many important ingredients for the relief of migraines and associated headaches. The supplementation of these substances can also prevent future attacks. Riboflavin and Vitamin B6 are key ingredients that combat Vitamin B deficiencies that are known to induce headaches. Niacin positively impacts the body's cholesterol levels and, thus, prevents imbalances that can lead to migraines. The addition of the mineral Magnesium is positive to note as Magnesium deficiencies are direct contributors to severe attacks. This formula contains several natural ingredients, such as Ginger Root and Butterbur, which further enhance the soothing properties of the product. This is positive to note. That said, there is no indication that this product was manufactured in a cGMP certified facility. Furthermore, the formula includes no patented ingredients. These two factors suggest that quality was not a priority during production and this is a major concern. There are many competitor products that are supported by quality certifications and patented ingredients.
Daily Serving
The manufacturer recommends consuming four (4) capsules per day. They suggest taking two (2) capsules twice a day with meals for best results. Each serving supplies a decent dose of the main ingredients. That said, many competitor products contain higher dosages for improved results. An increased dosage of Vitamin B6, for example, may need to be considered to deliver the best results.
The Cost
This product is sold on the manufacturer's online store. A bottle of 90 capsules can be bought for $6.97. This price comes at no discount, however, is relatively affordable. That said, a bottle will only last 22 days. Long-term use will require a frequent purchase and this could become expensive. There are no bulk-buy deals to support prolonged use.
Guarantee
The manufacturer claims to offer a 100% Satisfaction Guarantee. This guarantee applies to partially used products and is eligible for 1 year from the date of purchase. What concerns us about this lengthy guarantee is that it is very unclear regarding the return policy. This may protect the manufacturer against refunds and makes the policy appear unreliable. Another concern is that there are insufficient customer reviews to support the product's claimed effectiveness.
Our Review Summary Of Migraine Treatment Group Migraine Support Formula
We found a few positive facts about this product. It contains an impressive formula of beneficial ingredients for combating migraines. Customer purchases are also supported by a guarantee. However, the guarantee is unclear and this brings its reliability into question. There are not enough customer reviews to ensure product efficacy. Furthermore, long-term use is not encouraged through substantial deals and bulk-buy options. These are a few of the reasons why we do not recommend Migraine Treatment Group Migraine Support Formula.
Well researched reviews, from the experts at Research & You.