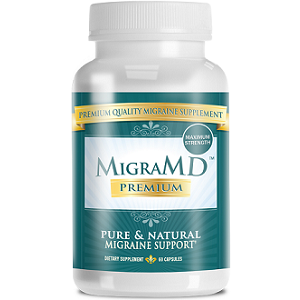 MigraMD Premium - Does It Work?-Review
What is MigraMD Premium?
MigraMD Premium is a natural supplement that can be taken daily to reduce the onset of migraines. It contains naturally derived but scientifically researched ingredients that are tested for quality and purity. Migraines can be debilitating and they are quite common and taking the supplement is a good idea because it doesn't produce side effects.
Ingredients & How It Works
Magnesium
Riboflavin
Feverfew
Butterbur
Niacin
Ginger
Gingko Biloba
Wild Yam Root
Bromelain
Black Pepper
Some of these ingredients are important for general maintenance like riboflavin, which helps with energy production and metabolism in the brain and niacin, which controls the level of sugar that the brain receives. Other ingredients have specific effects like feverfew, which reduces inflammatory chemicals that may be the cause of a migraine or butterbur which helps smooth muscles to relax. Along with magnesium, these effects can help to reduce migraines mostly by acting on the blood vessels in the brain.
The bromelain helps to break down certain proteins in the sinus cavities which may be contributing to the pressure in the head. This reduces the chance of developing sinus headaches and migraines. White Willow bark extract contains the parent compound of aspirin which reduces pain sensation. The black pepper improves the absorption of all the other ingredients.
Daily Serving
Two capsules of MigraMD Premium must be taken every day to reduce the onset of migraines. The body receives a more measured dose if the customer takes one capsule in the morning and one capsule in the afternoon.
The Cost
The cost of one bottle of MigraMD Premium (a month's supply - 60 capsules) is $48. When a customer buys three or more bottles, they receive a discount. When buying three bottles, the price per bottle is lowered to $30.33 (total $91). Buying four bottles gives the discounted price of $28 per bottle (total $112). The price per bottle when buying six together is $23 (total $138).
Guarantee
MigraMD Premium is backed by a satisfaction guarantee which is valid for 90 days. Under this guarantee, a customer may return the product for any reason that they may feel unsatisfied, even if it has been opened and completely used. They will then receive a full refund. Most customers are happy with the product, according to the customer feedback reviews.
Our Review Summary Of MigraMD Premium
Unlike other migraine supplements and pharmaceutical products that simply mask the pain of a migraine, this one deals with the underlying issues that could be causing it. This is helpful for long term prevention of migraine onset. The ingredients have a good amount of scientific evidence to back them up, so this product is scientifically speaking, likely to work.
It is also offered at a reasonable price that benefits customers who want to purchase more supplies of the product.  the guarantee is also clear and valid for a long time and under very reasonable conditions. Find out what more this manufacturer has in store by clicking here. 
Well researched reviews, from the experts at Research & You.