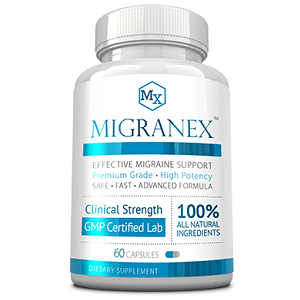 Migranex Natural Migraine Support - Does It Work?-Review
What is Migranex Natural Migraine Support?
This is a review for Migranex Natural Migraine Support. According to the manufacturer it contains key ingredients to battle migraines, by improving cerebral blood flow, reducing migrain frequency, assuaging the pain and, perhaps most importantly, optimizing hormonal balance in the body to prevent future migraines.
Ingredients & How It Works
Magnesium, known to help stabilize cell membranes
Riboflavin, reduces the recurrence rate of migraines
Feverfew, reduces frequency and duration
Butterbur, for muscle relaxation and blood flow
Niacin, to balance blood sugar levels
Ginger, for pain relief
Ginkgo Biloba, contains pertinent antioxidants which improve circulation in the brain
Wild Yam Root, anti-inflammatory and for equilibrium purposes
White Willow Bark, includes salicin for pain relief
Bromelain, an enzyme that breaks down protein and combats headaches
Black pepper, to increase bioavailability
All of the ingredients listed above are vitamins and naturally occurring nutrients that address not only treating extent migraines but preventing them in the future. Their four-step process to control the pain, relax the muscles, increase circulation in the brain and prevent future migraines looks like a thorough and well-researched approach to helping reduce migraine intensity and frequency.
Daily Serving
Two capsules should be taken three times a day, each dose with a meal (morning, afternoon and evening) for best results. For an ongoing use, only two capsules should be taken twice a day, both morning and evening.
The Cost
A few different packages are offered in the sale of Migranex. A single 60-count bottle is $49.95, while two bottles are sold at $34.95 each. For a four-bottle supply, the manufacturer gives two bottles for free and the cost of each bottle works out to $27.95, saving $128.00 over the single bottle price. Their Best Value Package includes six bottles and saves $219.00 by offering each bottle at $23.30.
Guarantee
Migranex has a full 60-day money-back guarantee. The manufacturer, with this policy, expresses confidence in its product and gives customers the option to return the product, no questions, asked, should they be dissatisfied. Unlike some companies, even opened and partially used bottles of Migranex are accepted back for refund, enabling users to fully try and judge the results of the product over the course of two months.
Our Review Summary of Migranex Natural Migraine Support
Migranex Natural Migraine Support is certainly one of the most thorough formulas that we have seen on the market. With its reasonable price for multi-bottle purchases and easy refund policy, it makes us, as reviewers, and customers and more comfortable recommending and trying (respectively) the product since there is basically no financial risk. We hold out high hopes for its effectiveness based on the many clinical studies that have shown its ingredients are effective. We also like the fact that the product is made in the USA under cGMP standards in an FDA-approved facility. Their website provides all the necessary information to help users makes the best choices. Overall, if you have migraines, we believe this is worth trying.
Well researched reviews, from the experts at Research & You.