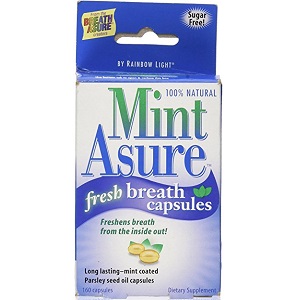 MintAsure Fresh Breath Capsules - Does It Work?-Review
What is MintAsure Fresh Breath Capsules?
For the vast majority, bad breath is caused by bacteria and in many cases, efforts to improve oral hygiene solves the problem completely.  And for those individuals where the fix is mouthwash or extra brushing/dental care, that is great news.  But this does not end up being true for many people who continue to be plagued by the problem of bad breath every single day.  So today we are reviewing a product called MintAsure Fresh Breath Capsules which is a product that has been designed to improve your breath rather than having powerful odors remain in your mouth.  A natural product made of parsley seed oil that comes in a capsule, it neutralizes bad breath and has a refreshing mint flavor.
Ingredients & How It Works
The main ingredients are:
Parsley Seed Oil - 16mg

Xylitol (from Birch tree) - 126 mg
The secondary ingredients are Sunflower Oil, Kosher Gelatin, Purified Water, Glycerin, Natural Peppermint Flavor, and Acacia Gum. This product contains no gluten, wheat, milk or dairy, nuts, soy, eggs, fish, or shellfish.

Parsley's green color comes from high levels of chlorophyll which neutralizes bad breath. Unfortunately, the amount of parsley seed oil is 16 mg and is not a significant enough amount to have the desired effect.
Daily Serving
The product label states to swallow, not chew, 2 or 3 MintAsure capsules with water or a fluid of your choice after eating.  You are advised to consult your healthcare professional if you are pregnant, nursing, taking other medications, or have any other medical conditions.
The Cost
MintAsure Fresh Breath Capsules comes in two sizes: 75 capsules and 160 capsules.  Prices on the manufacturer's website for 1 bottle with 160 capsules costs $12.79 plus $7.95 shipping for a total of $20.74.  A bottle with 75 capsules costs $7.39 plus $7.95 shipping for a total of $15.34.
Third party websites sell 160 count capsules for $11.32 and 75-count capsules for $7.95.  We were not able to find multiple packs at discounted rates to purchase.
Guarantee
There is no satisfaction guarantee offered by this manufacturer which is unfortunate for customers who look to them for consumer confidence in their products allowing the opportunity to try the product risk-free.  
Our Review Summary of MintAsure Fresh Breath Capsules
With millions of Americans suffering from foul mouth odors, we can say that MintAsure Fresh Breath Capsules is a good product choice.  It is sugar-free and has a refreshing mint flavor.  But consumers talked about the fact that they would have preferred to chew the capsules like a gum rather than swallow them as is instructed on the product label.  But perhaps more importantly, there are many products being sold today which use more than just parsley oil to neutralize bad breath, and unfortunately, parsley oil is not the leading ingredient to fight odor-causing toxins in your bloodstream. This product does not go much farther than functioning as a generic breath freshener.  We would encourage consumers to look at purchasing dietary supplements that are designed to cleanse your body from the inside out to eliminate odor-causing toxins.
Well researched reviews, from the experts at Research & You.