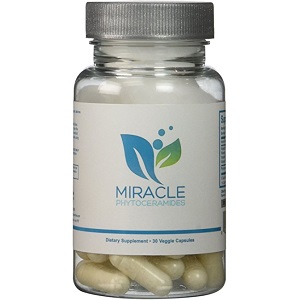 Miracle Phytoceramides - Does It Work?-Review
What is Miracle Phytoceramides?
This review is going to take a closer look at Miracle Phytoceramides to learn more about it and to determine if it is a worthwhile supplement. Miracle Phytoceramides is a Phytoceramide supplement that is designed to be taken orally, allowing for the Phytoceramides to penetrate every layer of your skin. The manufacturer claims that taking this supplement will hydrate your skin from the inside out, reduce the appearance of fine lines and wrinkles will help you maintain a youthful appearance.
Ingredients & How It Works
Vitamin A - 5000 IU

Vitamin C - 60 mg

Vitamin D - 400 IU

Vitamin E - 30 IU

Phytoceramides - 350 mg
Other Ingredients: Vegetable Cellulose, Magnesium Stearate, Silicon Dioxide and Microcrystalline Cellulose.
Vitamin A can influence the physiology of your skin by promoting epidermal differentiation, modulating dermal growth factors, inhibiting sebaceous gland activity and suppressing androgen formation. It is commonly taken to treat acne and psoriasis. Vitamin C regulates the structural protein collagen. A deficiency in Vitamin C can cause your skin to become rough. Vitamin D destroys free radicals that can cause premature aging. Vitamin E blocks free radicals that cause aging.
Daily Serving
The manufacturer recommends that you take one veggie capsule daily. You should not exceed the daily dosage.
If you are pregnant, nursing, under the age of eighteen or under medical supervision, you should talk to your doctor before taking this supplement.
The Cost
You can purchase this supplement exclusively from third-party retailers. We found that it has been discontinued from most third-party retailer websites and we were unable to find a price.
Guarantee
We were unable to find a manufacturer's guarantee or a manufacturer's official website. This is risky because it means that if you purchase this product and it doesn't work for you or you experience adverse side effects, you might not be able to get your money back.
Our Review Summary Of Miracle Phytoceramides
Miracle Phytoceramides seems to be a promising tool that can help you achieve and sustain younger looking skin. The manufacturer includes several key vitamins in addition to the phytoceramides in order to achieve an all-encompassing skin care product and it comes in easy to take vegetarian capsules for convenience. However, it is concerning that this product has been discontinued from nearly all third-party retailer's websites and we were unable to find an official manufacturer's website. It suggests that this supplement was not popular or worthwhile for the retailers to continue selling on their websites. It may also be hard to find a place to purchase it. Miracle Phytoceramides is not backed by a manufacturer's guarantee which is risky and suggests that the manufacturer is not confident in their product's abilities. Taking these factors into consideration, you are better off choosing a Phytoceramide supplement that is current, has an official manufacturer's website and is backed by a strong manufacturer's guarantee.
Well researched reviews, from the experts at Research & You.