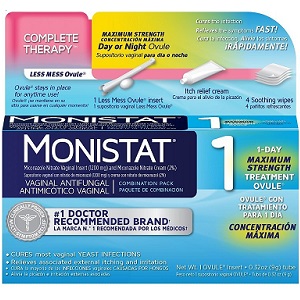 Monistat 1 Complete Therapy Less Mess Ovule - Does It Work?-Review
What is Monistat Complete Therapy Less Mess Ovule?
This is a review of Monistat Complete Therapy Less Mess Ovule, used to treat yeast infections that can include itching and irritation in the vagina, causing pain, soreness, and irritation. The product comes with the less mess ovule insert, a tube of itch relief cream, and cool wipe pads. Monistat provides a range of one, three or seven-day treatment plans with varying strengths, but this review focuses on the 1-day treatment plan.
Ingredients & How It Works
Active Ingredients: 
The Monistat 1 products come in a single-dose and contain 1200 mg of Miconazole Nitrate in the vaginal insert and 2% Miconazole Nitrate in the external cream.
Inactive Ingredients in the Vaginal Insert:
Gelatin

Glycerin

Lecithin

Mineral Oil

Titanium Dioxide

White Petrolatum
Inactive Ingredients in the External Cream:
Benzoic Acid

Cetyl Alcohol

Isopropyl Myristate

Polysorbate 60

Potassium Hydroxide

Propylene Glycol

Purified Water

Stearyl Alcohol
Inactive Ingredients in the Soothing Wipes:
Water

Propylene Glycol

Aloe Barbadensis Leaf Juice

Tocopheryl Acetate

PEG-75 Lanolin

Disodium Cocoamphodiacetate

Polysorbate 20

Fragrance

Citric Acid

Disodium Phosphate

Disodium EDTA

2-Bromo-2-Nitropropane-1

3-diol

Iodopropynol Butylcarbamate
These are not all-natural ingredients and may increase the risk of some side effects.
Daily Serving
There are three steps for this product.  First, for the vaginal application, place it in the vagina and discard the applicator afterward.  Second, for the external cream, take a small amount of cream on your fingertips and apply it to any areas that are itchy or may be irritated outside the vagina.  This can be applied twice daily up to 7 days as needed. Third, the wipes can be used to refresh the infected areas and should be thrown away after each use.
While using this product, tampons, douches, spermicides and other vaginal products should not be used.  Vaginal intercourse should be avoided.  Consumers should read the very thorough instructions on the back of the package about the product.
The Cost
Monistat Vaginal Antifungal Less Mess Ovule is not available on the manufacturer's website but it is possible to print a coupon to bring to stores for purchasing.  It can be purchased on third party websites for $14.94.  We were unable to find multi-packs available for purchasing.
Guarantee
The manufacturer does not offer a guarantee for this product.  If any satisfaction guarantees were available, it would be through the third party website or stores where the product was purchased.
Our Review Summary of Monistat Complete Therapy Less Mess Ovule
There is no question that Monistat Complete Therapy Less Mess Ovule is a solid product designed to relieve the symptoms of yeast infections. The bigger question at hand is whether this product is successful in relieving the infection temporarily or completely to get to the core of the problem at hand causing the individual to get the yeast infection to begin with. Clearly, there are mixed reports on this question based on consumer reviews of Monistat Complete Therapy Less Mess Ovule.
What we have found is that there are numbers of well-reputed supplements in the marketplace that use different probiotic strains and blends of natural and anti-fungal ingredients to address the fact that yeast grows and thrives in acidic environments. Specifically, supplements that help the body balance its alkaline and pH levels so that candida yeast cannot grow and multiply is a key approach for this problem.  Monistat may temporarily clear up a yeast infection, but a product that does not, for example, contain 5 strains of healthy bacteria including the most effective – Lactobacillus Acidophilus, will not be able to, long-term, completely eliminate the problem at hand.  And to do so, most sufferers of yeast infections need a long-lasting solution and there are many products on the market, with satisfaction guarantees, that do just that.
Well researched reviews, from the experts at Research & You.