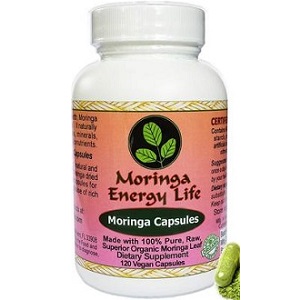 Moringa Energy Life Moringa Capsules - Does It Work?-Review
What is Moringa Energy Life Moringa Capsules?
The following review is for a product called Moringa Energy Life Moringa Capsules. Moringa Energy Life Moringa Capsules is an organic nutritional supplement made from dried leaves of Moringa tree. The "tree of life", as it is commonly referred to, is best known for its leaves that contain nutritious and energy boosting properties. This product in particular, is designed for people who want to improve their overall health. The Moringa leaf powder inside each capsule has antioxidants, amino acids, anti-inflammatories, essential vitamins and minerals that help keep your immune system strong and improve concentration and energy levels.
Ingredients & How It Works
We tried our best to find a list of ingredients of this product online, but unfortunately, were unsuccessful. The only information that we could find was on part of the product label featured on a third-party retailer's website, where it listed what the product does not contain. It stated that Energy Life Moringa contains no preservatives, flavors, additives, fillers, starch, and gluten.
According to information on the manufacturer's website, however, Energy Life Moringa is made from dried Moringa leaf powder. Each capsule contains 400 g of this powder.
Daily Serving
The recommended daily serving for this product is two capsules per day or as advised by your healthcare practitioner. It is not stated whether it should be taken before, with or after meals.
The Cost
Moringa Energy Life Moringa can be purchased from the manufacturer's website at a cost of $29.95 for a bottle of 120 capsules. Another retailer sells the product at for $27.95. We could not find any other retailers that sell this product online. The difference in price is not that much and they both seem to be reasonable for 120 capsules when compared with other products of similar nature. There are no discount offers for purchasing in bulk.
Guarantee
This product comes with a 30-day guarantee. The manufacturer states clearly that they are confident that their Moringa capsules will give you the results that you need. If this is not the case, you can return the product within 30 days of purchase for a full refund.
Our Review Summary Of Moringa Energy Life
We are certain that Moringa leaves are a great source of vitamins and minerals that provide you with all the nutrients that your body needs. The manufacturer of the Moringa Energy Life is determined that their product will improve your health by strengthening your immune system, energy levels, and concentration. We would like to believe this claim, however, it is not easy to do so when some important information about the product is not disclosed. During our research for Moringa Energy Life Moringa, we discovered that the manufacturer does not have the list of ingredients for the product on their website, and we could not find it anywhere else. It is very important to know the ingredients of the product before purchasing it, to ensure that you are safe. 
It is also worrying that the Moringa Energy Life is available from two retailers only, one of which is the manufacturer. The reviews that we could find were also very few, which makes it difficult to be certain about the effectiveness of this product. The guarantee period is not enough either, which makes it even more difficult to assess the effectiveness of this supplement.
It is always better to go for a product that has many customer reviews so that you know about other people's experiences before making your choice. It also helps to know the list of ingredients in the product to ensure your safety. Due to these reasons, we recommend that you look for another Moringa product with the qualities you need.
Well researched reviews, from the experts at Research & You.