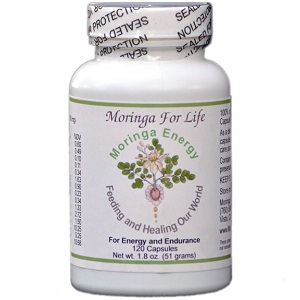 Moringa for Life Moringa Energy Capsules - Does It Work?-Review
What is Moringa for Life Moringa Energy Capsules?
Read our review below about Moringa for Life Moringa Energy Capsules. This product is one of many Moringa products designed to improve your health by increasing your energy levels and supporting your immune system. It contains essential amino acids, minerals, vitamins, anti inflammatories and antioxidants that help combat illness and infections, giving your body a whole new life.  Moringa for Life Moringa claims to improve your nutritional intake when added to your everyday diet.
Ingredients & How It Works
Moringa for Life Moringa is purely made from Moringa Leaf Powder.  We could not find any other information relating to the ingredients, such as the ingredients list on the manufacturer's website.  This is concerning as it is important to know the ingredients of a product that you are using to ensure that you are safe.
Daily Serving
We searched everywhere on the manufacturer's website but we could not find the dosage of the product stated anywhere. This is a very important information that should be made available to a buyer, as taking an incorrect dose could have negative impact on their health.
The Cost
The manufacturer sells this product on their website for $24.00 per bottle. It is not exactly clear as to how many capsules there are in a bottle because this price is for 150 capsules as stated on the website, yet the label of the bottle in the picture is written 120 capsules, and the manufacturer also states that each bottle contains 120 capsules. Nevertheless, the manufacturer offers you a discount if you purchase a case with 12 bottles. They charge you a price for 11 bottles, which means that you get the 12th bottle for free. You also do not pay for shipping if you buy something that costs more than $100.00.
Guarantee
The manufacturer offers a 100% satisfaction guarantee. They do not indicate whether or not you can return the product for a full refund or exchange if you are not satisfied. They also do not indicate the period of the guarantee. They advise that you contact them if you have any problems or questions regarding shipment, however they don't indicate that you should contact them if you have a problem with the product itself.
Our Review Summary Of Moringa for Life Moringa Energy Capsules
Moringa leaves are known to have antioxidants, anti inflammatories, vitamins and minerals that help to keep your body strong and healthy.  It is not called "The Tree of Life" by mistake. Many people have experienced its wonders and have seen the results. However worried about this product because it does not look like it comes from a legitimate source. There is a lot of information missing. A manufacturer that sells a product that affects people's lives should know the importance of providing crucial information such as the ingredient list and dosage.
The manufacturer has not shared the ingredient list, and the recommended dosage anywhere on their website. This indicated to us that they don't really care how the product affects their customers, or maybe they themselves are not well informed about their product. Their guarantee is also vague, as they do not mention if you can or cannot return the product or container for a full refund if you are not satisfied. It is not advisable to buy a product that lacks important information. Therefore, it is better to look for another product that gives you confidence before you even buy it.
Well researched reviews, from the experts at Research & You.