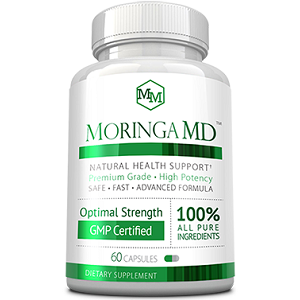 Moringa MD - Does It Work?-Review
What is Moringa MD?
According to statistics gathered in 2014, 39% of people around the world (some 1.9 billion people), over the age of 18, were overweight. Even with the prevalence of news stories and online chatter about well-being, which make us all aware of the issues of body weight and overall health, that's a number that's likely to astonish more than a few of you. And, of course, it's why the burgeoning weight-loss supplement category is among the most competitive segments of the nutritional supplement market. 
In this review, we take an in-depth look at Moringa MD, a product said by the manufacturer to help with weight loss, the burning of fat and appetite suppression. It is also claimed to help prevent the formation of fat. Should Moringa MD be on your shopping list, along with those healthy foods? Read what we learned in our full report below.
Ingredients & How It Works
The sole and active ingredient of Moringa MD is Moringa Oleifera in a 4:1 extract (meaning four units of raw material is used to produce each unit of the final product). Each capsule contains 600 mg. 
It is said to have a number of mechanisms for helping reduce body weight. It retards the release of sugar into the bloodstream which is said to prevent excess blood sugar from being converted to fat. It also contains components which encourage the burning of stored body fat and is said to nourish the body and thus reduce food cravings. In addition, research has shown it to have potent antioxidant properties which contribute to a reduction of oxidative damage within the body.
Daily Serving 
The manufacturer recommends taking two capsules of Moringa MD per day. They can be taken together or you can choose to take one in the morning and one in the evening.
The Cost 
While the cost of a single bottle is not the least expensive, the company does provide substantial discounts for multi-bottle purchases. If you buy two bottles the cost per bottle is $34.95, a full $15.00 less than the single-bottle price. Additional savings are had if you purchase four bottles, at $27.95 per bottle or six bottles at $23.30 each.
Guarantee
One of the ways products can stand out in a crowded market where competitive products all seem pretty much the same, each consisting of pure moringa oleifera, is to provide a strong money-back guarantee. Moringa MD understands this requirement and differentiates itself from many of its rivals with a full-on money-back guarantee. You have a full 60 days to use and assess Moringa MD and, if you're not satisfied, you can return both opened and unopened bottles for a refund of your purchase price.
Our Review Summary of Moringa MD
If you're part of those stupefying 1.9 billion people on the planet who struggles with being overweight, Moringa MD looks like a good option. Depending on your level of health, your diet and how much you exercise, it could take anywhere from a couple of weeks to several weeks to see the effects of Moringa Oleifera. Moringa MD, with its two-month return/refund policy on all product, gives you the opportunity to try it out, risk-free. With its cGMP manufacturing standards in an FDA-regulated lab, it seems to us there is not much to lose except some excess weight.
Well researched reviews, from the experts at Research & You.