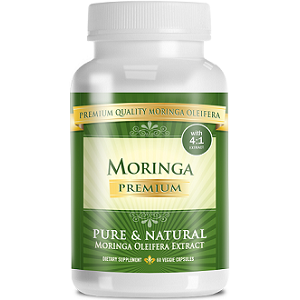 Moringa Premium - Does It Work?-Review
What is Moringa Premium?
Moringa extract, from the Moringa oleifera tree, contains high levels of vitamins and minerals as well as antioxidants. It has been used for a long time in natural medicine for a variety of treatments, but recently science has specifically proven that it assists with weight loss. Many manufacturers have therefore created Moringa supplements, but they're not all equally effective, for various reasons. This reviews focuses on Moringa Premium, a product that claims to factor scientific research into the ingredients and dosage.
Ingredients & How It Works
The only active ingredient in this product is Moringa extract. Moringa extract is high in vitamins like vitamin A, vitamin C and vitamin E. It also contains many minerals like iron, calcium and potassium. These vitamins and minerals are very important because they perform a huge number of functions in the body, some of which are absolutely essential- like contributing to heart contractility and nerve conduction.
Moringa is also high in antioxidants. Antioxidants reduce inflammation by reacting with a neutralizing harsh chemicals called free radicals that would otherwise react with cell membranes and damage them.
One of the most important features of Moringa is that it contains benzylamine. Benzylamine helps the body to take up glucose from the blood. Greater control of glucose uptake helps a person to lose weight.
Daily Serving
The daily serving size of this supplement is two capsules. The supplement works best when taking one capsule in the morning and one capsule in the afternoon. The daily dosage of Moringa from this serving is 1200 mg.
The Cost
60 capsules of Moringa Premium cost $48 when purchased through the manufacturer online. A customer will get a discount if they purchase three or more 60 capsule bottles together. Three bottles go on sale for the price of $91 ($30.33 per bottle). Four bottles can be bought together for $112 ($28 per bottle) and six bottles for $138 ($23 per bottle).
Guarantee
If the customer feels unsatisfied with the product or their results, they may return the product (opened or unopened) within 90 days of delivery for a full refund. The manufacturer states that they make this guarantee because they are generally confident that the customer will be satisfied. The majority of the customers who have bought Moringa Premium have expressed their satisfaction with the product in their customer reviews.
Our Review Summary Of Moringa Premium
There are many Moringa supplements on the market created by different manufacturers. One of the differences with this one though is that they offer a very high dosage of Moringa extract. A high dosage is important because manufacturers that provide lower dosages are producing products that are less likely to be effective. The supplement is also offered at a reasonable price and the guarantee really gives the customer a peace of mind that the manufacturer is not there to scam them. You can read up more about this manufacturer by visiting their website. 
Well researched reviews, from the experts at Research & You.