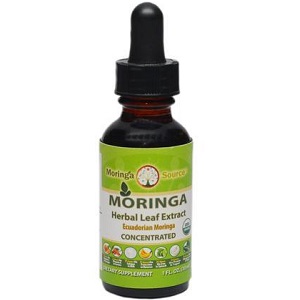 Moringa Source Herbal Leaf Extract - Does it Work?-Review
What is Moringa Source Herbal Leaf Extract?
Many health companies consider Moringa to be a superfood because it contains so many minerals and vitamins and it provides a range of health benefits. Moringa extract comes from the Moringa Oleifera tree. The various parts of this tree have been used in traditional medicine for many centuries. Research has confirmed many of the effects of taking Moringa daily. Now Moringa Source offers an oil extract from these leaves for use as a daily supplement and we put it to the test.
Ingredients & How It Works
Moringa Source Herbal Leaf Extract is essentially Moringa extract dissolved in purified water and vegetable glycerine. Moringa extract is high in nutrients and antioxidants. In fact as many as 90 nutrient compounds and 47 antioxidant compounds have been reported to be present in Moringa extract.  From our research we have determined that the main vitamins present in Moringa are vitamins A, C and E. Vitamin A is important for vision, vitamin C is for the immune system and collagen synthesis and vitamin E is a powerful antioxidant. Important minerals present in Moringa include iron, calcium and potassium. These minerals are important in nerve function and oxygen transport in the blood. The vegetable glycerine is added to sweeten the supplement without adding sugar.
Daily Serving
The manufacturer states that a quarter teaspoon of this oil can be taken one two three times a day or as needed. The dosage of this oil must be placed under the tongue where it absorbed directly  into the bloodstream, supposedly to avoid the breakdown of the product by stomach acid and enzymes.
According to the manufacturer,  each drop contain 600 mg  of Moringa but it is the last listed ingredient meaning that it is in the lowest quantity of all the ingredients present.
The Cost
One bottle of Moringa Source Herbal Leaf Extract can be bought online for $16.45. Each bottle contains 24 servings. Depending on the customer's use, a bottle can supply anywhere between 8 days and 24 days. The manufacturer  does not  offer any discount for buying multiple supplies, so the long-term use of this product can work out to be quite expensive.
Guarantee
No guarantee is offered on this product, which does suggest a slight lack of confidence from the manufacturer's side in their own product.
Our Review Summary Of Moringa Source Herbal Leaf Extract
We think that it is commendable for Moringa Source to have created a Moringa oil which does not taste bitter, so that it is easier to take the supplement daily.  The use of all natural ingredients for this product is also to be commended. However, we do think the formulation of this supplement is not the best way to take it. The  directions for use of this product are quite ambiguous which means that certain customers may experience decreased results. Although the manufacturer claims that the absorption of this product is better, they cannot provide any proof in the form of research.
The total cost of a monthly, or even a long-term supply of Moringa Source Herbal Leaf Extract is quite high and the manufacturer does not offer a guarantee. 
Well researched reviews, from the experts at Research & You.