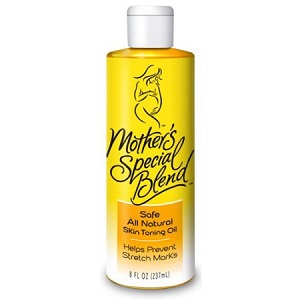 Mother's Special Blend Skin Toning Oil - Does It Work?-Review
What is Mother's Special Blend Skin Toning Oil?
The manufacturer of the product Special Blend Skin Toning Oil claims that their treatment can be used to prevent stretch marks by feeding and conditioning the skin. This as the skin contracts and expands during the stages of pregnancy. The following is a review on this treatment.
Ingredients & How It Works
The formula consists of the following ingredients:
Coconut oil – This natural oil protects and moisturizes the skin. It also protects the skin against damage, and promotes a fresher appearance. Being high in Vitamin E it aids in healing the skin.
Vitamin E – This antioxidant assists the formation of tissues, but also supports collagen health.
Sweet Almond Oil – High in fatty acids, this oil softens and moisturizes the skin.
Cocoa Butter – Acts as a conditioner and skin softener.
Despite the fact, this formula is natural, there is no medical-grade silicone as an additional ingredient. This kind of silicone has clinically been verified to offer a protective layer, which seals in moisture and accelerates healing.
Daily Serving
The maker of this treatment acclaims that this oil should be used 3 months before delivery and up to 3 months after labor. The company recommends testing this product on a small area inside the elbow. If, after 24 hours there is no side-effect reaction, this product may safely be applied to bigger areas of skin. Consumers should apply this oil each day, after a shower or bath. This while the skin is still moist and warm. The oil may be massaged in all over the body, including the nipples, which must, nevertheless, be cleaned before nursing. What's more, water should not come into the bottle. The coconut and cacao butter will harden if lower than 74 degrees. To re-emulsify the contents, place the bottle in warm water, and shake well afore you use it.
The Cost
This product sells for $15.00. This is for an 8-ounce bottle, on the manufacturer's own website, excluding shipping fee. On the other hand, there is an online special deal of three bottles includes a free bar of soap. Free shipping on order over $50.00, but limited to within the United States only. No further discounts are offered.
Guarantee
Despite our thorough research, no manufacturer pledge could be located. This would query the helpfulness of a merchandise.
Our Review Summary Of Skin Toning Oil
This product seems to be a beneficial treatment for stretch marks. Skin Toning Oil has worthy reviews, and all the elements in the formula of the product are safe, natural, with no synthetic or risky elements for you or your baby. That said, we should also mention that this treatment comes without a money-back guarantee. If sensitive to this stretch mark treatment, you could waste your money, particularly if three bottles have been paid for. Moreover, even though the guidelines are broad, particulars are not given on how much of this oil should be applied each day. Additionally, the manufacturer does provide a lot of information on their website, their website layout is messy and confusing, and making it hard to find the data you might be looking for. Last but not least, granting all the ingredients are natural, their value paralleled to others on the market may be examined. For example, this treatment does not contain clinically tested medical-grade silicone, or any of the following: emu oil, Aloe Vera, lavender, onion extract, or even Vitamin C.
Well researched reviews, from the experts at Research & You.