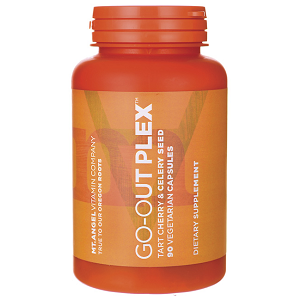 Mt Angel Vitamins Go-Out Plex - Does It Work?-Review
What is Mt Angel Vitamins Go-Out Plex?
Our Mt Angel Vitamins Go-Out Plex review looks at the suitability of this product for users experiencing general discomfort arising from blood circulatory problems. The manufacturer claims it is a unique blend of herbs and the enzyme Bromelain, isolated from pineapples. One of its principal ingredients, celery seed, has been in use since ancient times in treating blood circulatory issues. This product is; therefore, claimed to be effective in supporting healthy uric acid levels and reduce pain and inflammation in the joints such as with gout.
Ingredients & How It Works
Potassium citrate - 50mg
Celery seed extract - 800mg
Tart cherry - 100mg
Black cherry - 50mg
Bromelain - 100mg
Turmeric root (Curcuma long) - 100mg
These ingredients combine to provide a panacea to pain and inflammation in your joints. Celery seed extract is suitable for ensuring healthy and balanced uric acid levels. Turmeric root helps reduce inflammation in joints.
Daily Serving
Take one capsule with a meal twice every day. Look out for any undesirable reactions in your body, and if they appear, discontinue using the product immediately. Seek expert medical advice from professionals.
The Cost
You can buy Go-Out Plex online from the manufacturer's website for $24.41. This price is already discounted from $27.12. You can save a further 15% by subscribing. You can also buy a bottle of Go-Out Plex from Amazon for $16.23.
Guarantee
Our review was not able to find any detailed information concerning a money-back policy should the user deem the product ineffective. A manufacturer that provides a guarantee shows a level of confidence in the product and also the value they place in their customers.
Our Review Summary of Mt Angel Vitamins Go-Out Plex
The list of ingredients on the Go-Out Plex label may indicate that the supplement may well be able to bring relief to people suffering from circulatory problems, inflammation, and uric acid imbalances leading to gout. Our review was able to establish the following high points of the product:
It is cheap compared to other supplements that treat the same conditions.
It contains the necessary ingredients such as tart cherry extract.
Our review was also able to identify the following weak points of the product:
The product does not come with a money-back guarantee.
The manufacturer does not provide much information about how this product works.
This product seems to be designed to specifically manage symptoms of gout, yet the manufacturer never actually states this. Customer reviews are also conspicuously missing from the manufacturer's website. It could be an indication that not many users have bought the product or that there is nothing to write home about the supplement. We think it is important to look for a manufacturer that is open and honest about their product and clear about the details. We think you should look for another product from a manufacturer that does just that as well as back up their product with a money-back guarantee.
Well researched reviews, from the experts at Research & You.