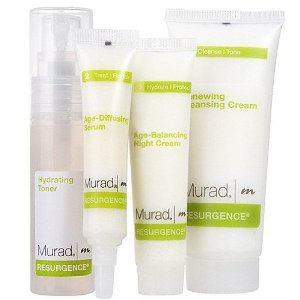 Murad-Review
Curiously, a great deal of self-esteem hinges around healthy skin, and whether it's acne or scars or stretch marks or wrinkles or cellulite, they cause worry in the person afflicted. Given the size of this market there are far too many potential solutions that promise to treat these problems and get your self-esteem back on the rails.
About the Product
Whether it is cellulite or acne or acne scars or a combination of acne and wrinkles, Murad claims that its suite of skin care solutions can solve all of these problems and their fall outs.
How it Works
Murad claims that scientific research and laboratory testing combine to give the gift of infallibility to its product, the first skin care treatment solution claimed to be devised by a doctor. Named after its founder, Dr Murad, the company celebrates its pioneer for helping alleviate the skin care problems of millions. Instead of sticking to the conventional wisdom of exploiting profitable niches, Murad has taken an ambitious risk by being a jack of all skin care solutions.
How Much it Costs
The Murad suite of products carry a premium price tag ranging from $15 to $45; while the prices are relatively higher than those of competitors, they are not priced as to be beyond the reach of end users.
How You Make it Work
Murad products are likely to deliver only if the end user adheres religiously to the instructions. So it involves a degree of determination and resolution to see the treatment regimens through to their successful closure. There is macro data evidence to prove that Murad's suite of products work. While a treatment regimen might not work for a particular individual the overall trend appears to favor the skin care product manufacturer. Murad has been hit by unauthorized sellers of their suite of products as well as by sellers of counterfeit products carrying Murad's name. This is how the company has tackled the problem, as revealed on their site: After an entreaty to end users to "Look for Our Seal of Authenticity" the company goes on to explain that effective from January 1, 2009, a hologram would distinguish authentic Murad products from counterfeits. Tipping of the hologram would reveal a trio of patterns comprising elements of Murad's logo. That apart, a unique code number assigned to each seal would help users to find out the latest date by when they would have to use the product. The company also warns against using products with their seals defaced or packaging tampered.
Final Review
Here we examine three flagship products to compare their eventual delivery with their initial promise: Acne: Murad's acne solutions do not enjoy universal acceptance and acclaim with many users carping about the plethora of products (four). They also cite their difficulty of use, given the amount of time it takes to apply them and the confusion that arises from trying to get the right mix. Anti Aging: Murad's anti-aging solutions find greater popularity with many users swearing undying loyalty. However, despite complaints about the high price tag, users still perceive value for money on the back of proven performance. Cellulite - Murad's cellulite solutions also find mixed approval, with equal numbers of users finding it effective or ineffective. That is understandable given the nature of the problem that hounds several women who battle cellulite all their lives. The Murad suite of products offered also includes, besides the flagship products described above, specific solutions aimed at treating sensitive skin leading to redness and clogged pores; the company also produces and sells men's shaving gear and sunscreen, in a wide range aimed at making Murad a single window to get every conceivable skin care solution from. The company takes its name from its founder, Dr Howard Murad, a clear attempt at giving itself scientific credibility, thereby differentiating itself from competitors who don't enjoy the same brand image. Murad is a premium category product with a premium price that loyal users appear willing to pay, as they seem to perceive value for money. As with all skin care solutions the efficacy of Murad's products will vary depending on the type of skin and the degree of the problem. The best results are derivable with proper identification of your skin type and correct use of the product. In our estimation, the Murad suite of skin care products deliver value, with the company making a sincere effort at delivering solutions that work at affordable prices. Importantly, Murad stresses holistic solutions that take into account the effects of skin treatment on other parts of the body, something most of their competitors appear to neglect.
Well researched reviews, from the experts at Research & You.