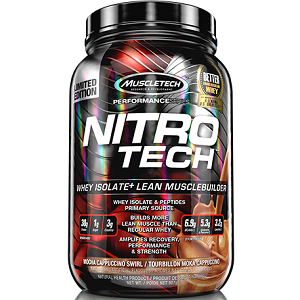 MuscleTech Nitro-Tech - Does It Work?-Review
What is MuscleTech Nitro-Tech?
This review is going to take a closer look at MuscleTech Nitro-Tech to learn about how it works and to see if it really does accomplish what it's designed to do. This product is a Nitric Oxide supplement that is a whey-protein designed for all athletes who are looking for more muscle, more strength, and better performance. It contains protein sourced from whey protein isolate and whey peptides. The manufacturer claims that taking this supplement will amplify recovery, performance, and strength.
Ingredients & How It Works
Nitro-Tech comes in several different flavors. The key ingredients are the same but the added ingredients vary with each flavor. The ingredients in the Milk Chocolate flavor are as follows:
Protein - 30 g

Calcium - 170 mg

Iron - 0.87 mg

Sodium - 140 mg

L-Leucine (as whey protein concentrate, whey protein Isolate, Whey Peptides, L-Leucine, Whey Protein Isolate 97% - 3.2 g

L-Isoleucine (as whey protein concentrate, whey protein Isolate, Whey Peptides, L-Leucine, Whey Protein Isolate 97%) - 1.9 g

L-Valine (as whey protein concentrate, whey protein Isolate, Whey Peptides, L-Leucine, Whey Protein Isolate 97%) - 1.8 g

Creatine Monohydrate - 3 g
Other Ingredients: Isolate Protein and peptide blend, whey protein concentrate, cocoa, natural and artificial flavors, soy or sunflower lecithin, gum blend, enzyplex, salt, sucralose, acesulfame-potassium. milk and soy ingredients. Processed in a facility that contains egg, wheat, tree nut, fish, shellfish, and peanut ingredients.
Daily Serving
The manufacturer recommends mixing one scoop of the powder with 6 oz. of liquid or two scoops of powder in 12 oz. of cold water or with skim milk in a glass or shaker cup. You should take it between major meals and after exercise. For optimal results, you should drink eight to ten glasses of water a day. For maximum results, you should consume 4 scoops of Nitro-Tech daily for a minimum of six weeks.
If you are pregnant, nursing, under medical supervision or have a heart condition, you should talk to your doctor before taking this supplement.
The Cost
You can exclusively purchase this supplement exclusively from third-party retailers. We found one four pound bottle online for $44.99. There are no bulk purchasing options offered but that can vary according to the third-party retailer you purchase from.
Guarantee
The manufacturer offers a 30-day return policy only for unopened bottles that are in their original condition. This is risky because it means that if you purchase this product and it doesn't work for you or you experience adverse side effects, it means that you cannot get your money back.
Our Review Summary Of MuscleTech Nitro-Tech
This product appears to be a promising Nitric Oxide supplement that may be able to help boost the levels of Nitric Oxide production in your body. It contains a variety of ingredients that individually contain properties that can boost your body's Nitric Oxide production and it comes in an easy to take powder that comes in several different flavors. However, while the manufacturer probably designed their supplement to come in different flavors to make taking the powder more enjoyable, a big complaint we saw from consumers is that the flavors are disgusting. Consumers reported that the different flavor options made consuming the powder intolerable. The general consumer feedback we saw is mixed. Some consumers were pleased with this product but many others reported that this supplement is weak and does not work. While this product is backed up by a manufacturer's guarantee, the guarantee is weak and limited. You are better off purchasing a Nitric Oxide supplement that has positive consumer reviews and a strong manufacturer's guarantee.
Well researched reviews, from the experts at Research & You.