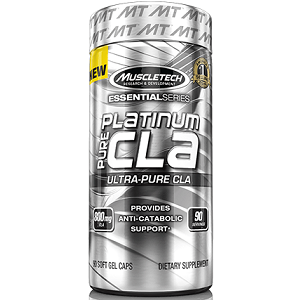 MuscleTech Platinum Pure CLA - Does It Work?-Review
What is MuscleTech Platinum Pure CLA?
This review on MuscleTech Platinum Pure CLA is intended to help you learn more facts about this muscle building supplement. This product makes use of ultra-pure conjugated linoleic acid (CLA) that contributes to preventing the body from breaking down the lean muscles. It offers anti-catabolic support that is ideal for stacking as CLA can burn fat. This product does not contain any stimulants or chemicals, hence it is a good choice for bodybuilding.
Ingredients & How It Works
MuscleTech Platinum Pure CLA contains Conjugated Linoleic Acid (CLA) which is a derivative of safflower seed oil, and it is the main active ingredient in this product. CLA works by preventing the breakdown of lean muscle mass. We found out in our research that this ingredient is more anti-catabolic than anabolic, hence preserving muscles after heavy exercises than boosting protein synthesis. Since it can inhibit the formation of fat cells, it thus manipulates the reduction of fatty tissues. Unfortunately, we further found out that CLA may produce some side effects such as an upset stomach, nausea, fatigue, and diarrhea in some consumers.
Daily Serving
The manufacturer advises consumers to take one softgel with a full glass of water three times a day before breakfast, lunch, and dinner. Consumers are, however, warned against exceeding three servings of MuscleTech Platinum Pure CLA in a 24-hour period. This may result in overdosing and in undesirable side effects.
The Cost
The manufacturer of MuscleTech Platinum Pure CLA does not indicate the price of this product on its website. We found $16.14 as the price tag for this product on Amazon's online store. The product is moderately priced, and this makes it affordable for many consumers. This product is available for purchase on the manufacturer's website or from approved distributors.
Guarantee
The biggest setback for this product is the lack of a money back guarantee. Information on the manufacturer's website is not readily available. Through our research, we established that the company offers contact information to some countries in order for them to issue reports on counterfeit goods. Unfortunately, there does not seem to be any information concerning a refund to its customers if they are not happy with the results.
Our Review Summary of MuscleTech Platinum Pure CLA
Our analysis of MuscleTech Platinum Pure CLA established that it is useful in burning fat and building muscles since it contains CLA as its main active ingredient. CLA has several health benefits, and this makes the product an excellent choice. This product is also stimulant-free making it safe for consumption, and it can also be included in gluten-free diets. We could not find customer feedback on the website but based on Amazon reviews, a good number of clients who used the product were happy. Lack of guarantee information is also another issue that we noted. This may indicate that the manufacturer is not confident about the product's effectiveness. It is hard to determine whether customers unsatisfied with the results of this product have an option for a refund or exchange.
Well researched reviews, from the experts at Research & You.