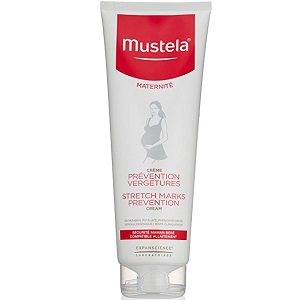 Mustela Stretch Mark Prevention Cream - Does It Work?-Review
What is Mustela Stretch Mark Prevention Cream?
The following review is for a product called Mustela Stretch Mark Prevention Cream. This product is specially designed for new and expectant mothers. It contains ingredients that work to reduce the visibility of stretch marks, moisturises and provides the skin with elasticity that it needs during pregnancy and after birth. The manufacturer claims that it is suitable for all kinds of skin. They further claim that this product is eco-friendly and  has been clinically tested to ensure efficiency and safety.
Ingredients & How It Works
Galactoarabinan
Avocado Peptides
Aqua
Di-C12-13 Alkyl Malate
Citric Acid
Lupinus albus Seed Extract
Tocopherol
Pentylene Glycol
Helianthus Annuus Seed Oil
Sophora Japonica Fruit Extract
Hydrolyzed Avocado Protein
Maltodextrin
Cetyl Alcohol
Cetearyl Glucoside
Glyceryl Caprylate
Parfum
Xanthan Gum
Cetyl
Ethylhexyl
Cocoate
Cetearyl Alcohol
Dicaprylyl Carbonate
Hydrolyzed Soy Protein
Butylene Glycol
Palmitate
Cocoglycerides
Sclerotium Gum
Zinc Gluconate
Cera
Beeswax D'abeille
Laureth-23
Galactoarabinan
Shea Butter
Glyceryl Stearate
1,2-Hexanediol
The primary ingredients are designed to promote resilience and stretchability, and help firm the skin, leaving it feeling softer, hydrated and comfortable.
Daily Serving
Start using Mustela Stretch Mark Prevention Cream from the beginning of your pregnancy and continue to use it after birth. Apply a thin layer of this cream in circular motion to the abdomen, thighs, hips and breasts, in the morning and in the evening. Do not use on caesarean section scars.
Cost
This product can be purchased from the manufacturer's website for $30.00 for a 8.05 oz tube. It is also available from third-party online retailers. An 8.05 tube is sold for the same price as the manufacturer's price, while a 5 oz tube is sold for $20.00. There seem to be no discounts available, but it is possible that they might have them at particular times.
Guarantee
The manufacturer offers a 30-day money-back guarantee. If you are unsatisfied with the results, you can return the product within the guarantee period for a full refund.
Our Review Summary of Mustela Stretch Mark Prevention Cream
Mustela Stretch Mark Prevention Cream seem to be a promising product. It contains ingredients that work in favor of your skin, providing it with elasticity, hydration and moisture that it needs during pregnancy and after birth. Our concern is that there is no information provided indicating the period of time that it takes for one to see results. If time period was provided, it would have been easier to know if the product is working for you or not when you see or do not see results within the specified time. Some products take about two months before they can work on some individuals. If this is the case, 30 days is very little for one to determine the effectiveness of the product. Therefore a 30-day money-back guarantee is not ideal. Rather look for a product that will give you 60 or more days for you to assess its effectiveness. This will ensure that you do not return the product thinking that it does not work for you where as it might be taking time to work due to individual differences. It is also advisable to buy a product that indicates the period of time that it will take to see results so that you know what you are in for. Due to these reasons, we do not recommend this product for stretch marks prevention and reduction.
Well researched reviews, from the experts at Research & You.