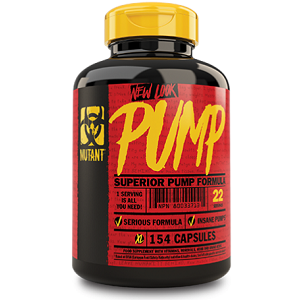 Mutant Pump - Does It Work?-Review
What is Mutant Pump?
Mutant Pump claims to enhance recovery and feed muscle growth, redefining the pump experience through Nitric Oxide (NO) inducing ingredients. In the following review, we shall examine these claims as well as the customer support - consolidating if this product is a recommended purchase for you.
Ingredients & How It Works
Vitamin C
Niacin
Calcium
Magnesium
Sodium
Potassium
L-Arginine
HyperOx
Nitric Oxide increases blood flow and stamina, reducing fatigue, inflammation, muscle pain, and recovery time. The synthesis of Nitric Oxide is promoted by L-arginine and Niacin. The products patented ingredient, HyperOx, is a Fenugreek extract that is known to boost testosterone levels and lower inflammation. The other substances offer supplementary support to the muscle repair and growth process. As there are more ingredients in this formula than with most competing products on the market, there is the potential for a reduced concentration of key active ingredients - which may reduce the effectiveness of this product. This product formula is also missing a known active ingredient known to promote Nitric Oxide synthesis: L-citrulline, which is included in competing products.   
Daily Serving
The manufacturer is relatively clear on the dosage instructions - taking 7 capsules once a day, 20 to 30 minutes before a training session. These must be taken with ample water, preferably 16 ounces of water. It does not mention if this must be taken on an empty stomach or not. It is recommended that customers do not exceed the serving size and that one month's supply (one bottle) is based on 5 workouts per week. 7 capsules per serving may become excessive to the user and potentially showcase a lack of key ingredient concentration. There are no health warnings on the manufacturer's website, which may act as a further testament to lack of potency of the product.
The Cost
You can purchase a bottle of Mutant Pump from the manufacturer's website for $46,99. This would give customers a one month serving of 154 capsules. There does not seem to be any indication of discounts or package deals available - making the extended use of this product expensive to maintain.  
Guarantee
The manufacturer offers refunds only for products purchased from the Mutant website. Returns are eligible for 15 days only, and must first be authorized through customer services. There is no indication if opened or used products qualify for refunds. There have been some customer reviews that claim this product was ineffective and offered 'no pump'.
Our Review Summary Of Mutant Pump
Mutant Pump has a formula of ingredients that have been known to assist in muscle growth, recovery, stamina, as well as the production of Nitric Oxide. However, the formula is missing  L-citrulline, an ingredient that has been known to boost the synthesis of NO - preventing optimal Nitric Oxide synthesis capability. There are also a variety of additional ingredients that may be beneficial for muscle support, but reduce the potency of the key active ingredients required for NO production. This idea is further supported by the need for 7 capsules per serving as well as a variety of customer reviews that claimed this product was ineffective. The guarantee is also vague and limited. With all of this in mind, we recommend you searching for other Nitric Oxide supplements available on the market that are easier to take and known to be more effective.
Well researched reviews, from the experts at Research & You.