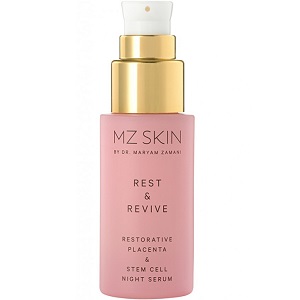 MZ Skin Rest & Revive - Does It Work?-Review
What is MZ Skin Rest & Revive?
In this review, we will be investigating a night serum by MZ Skin, known as Rest & Revive. Claiming to be made up of a dermatologically tested, innovative formula - this product is said to rejuvenate the skin and stimulate collagen while you sleep. Hydrating and reducing the appearance of fine lines and wrinkles.
Ingredients & How It Works
Glycerin
Isoamyl Laurate
Hydrolyzed Yeast Extract
Tribehenin PEG-20 Esters
Butyrospermum Parkii (Shea) Butter
Caprylic/Capric Triglyceride
Caryodendron orinocense Nut Oil
Glycerin is considered to be a humectant, that attracts moisture to the skin and has been used across many product lines in their skincare. Isoamyl Laurate is derived either from plant or synthetic sources - acting as a skin conditioning agent that coats and leaves skin feeling smoother. Hydrolyzed Yeast Extract helps to manage oxidative stress, soothing and calming the skin. Tribehenin PEG-20 Esters is a mix of tribehenin and PEG-20 and is a compound that acts as an emollient and emulsifier. Shea butter has risen in popularity as a skin moisturizer that locks in hydration. Made from glycerin and coconut oil, Caprylic/Capric Triglyceride helps to replenish the skin - while  Caryodendron orinocense Nut Oil is rich in skin conditioning minerals. This product has a long list of active and inactive ingredients, both natural and artificial. It is also still undetermined how many have been clinically proven and if this product is cruelty-free.
Instructions
According to the manufacturer, this product should be used in the following way. Take three to four pumps of the serum and apply it on clean skin (on the neck, face, and chest) every night. You can also use a derma-roller to intensify the penetration of this skincare product.
The Cost
To buy this product, the manufacturer is offering it on their website at a price of $253.14 for approximately 1 oz. While no special offers apply, the purchase of this product does allow the customer to earn points.
Guarantee
The manufacturer guarantee states that you should get your refund back after 14 days of them receiving the returned product. A full refund may apply, excluding any deductions, they are allowed to make according to their policies and terms of condition. Return cost won't be refunded and you have 14 days from order to make a complaint if you are unsatisfied.
Our Review Summary Of MZ Skin Rest & Revive
We were happy to see some positive feedback in the form of past customer reviews and liked that this night serum was made from some ingredients that have been shown to improve the condition of the skin. However, our review of MZ Skin Rest & Revive did uncover some concerns. With a very costly price tag for the amount of serum that is packaged, a long list of unverified chemical ingredients and no mention of animal-friendly or cruelty-free practices - we are uncertain if this is the best night serum on the market to date.
Well researched reviews, from the experts at Research & You.