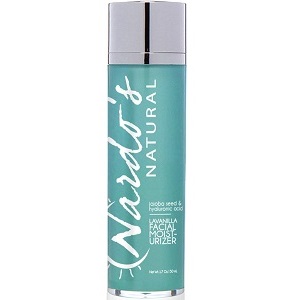 Nardo's Natural Facial Moisturizer - Does It Work?-Review
What is Nardo's Natural Facial Moisturizer?
This review of Nardo's Natural Facial Moisturizer provides details about the formulation of the product and how much it will cost the customer. Nardo's Natural Facial Moisturizer is it designed to provide extra hydration to the skin of the face which firms up the skin so that it has a plumper, healthy and more youthful appearance.
Ingredients & How It Works
Aloe Barbadensis Leaf Juice
Cocos Nucifera Oil
Olea Europaea Oil
Theobroma Cacao Seed Butter
Manihot Esculenta Starch
Sodium Hyaluronate
Tocopheryl Acetate
Lavandula Angustifolia Oil
Punica Granatum Seed Oil
Glycine Soja Oil
Simmondsia Chinensis Oil
Camellia Sinensis Leaf Extract
Hydrolyzed Collagen
Panthenol
Algae Extract
Vitis Vinifera Oil
Camellia Oleifera Oil
Riboflavin
Cyanocobalamin
The ingredients in this product fall into four basic categories, those which provide nutrients and moisture to the skin cells, those which plump up the skin, antioxidants and those which lock the moisture in. The importance of providing nutrients to the skin cells is so that they can produce the  bioproducts that are necessary to keep the skin fresh and bright. Some extra ingredients are added to enhance these functions like hydrolyzed collagen and sodium hyaluronate which fill up the space between skin cells and plump up the skin tissue.
The antioxidants help to prevent environmental damage to the skin which otherwise causes it to lose moisture and the various oils cause the water to stay within the skin by preventing evaporation so that the hydration lasts for a longer period of time.
Despite the long list of ingredients, there does not appear to be any patented ones which most leading manufacturers have in their products.
Instructions
Apply a pearl sized amount of Nardo's Natural Facial Moisturizer in an upward motion on the face and neck after having cleansed skin. Use the product twice a day, in the morning and in the evening.
The Cost
1.7 oz of Nardo's Natural Facial Moisturizer will cost $24.99. This price excludes shipping and taxes. There are no bulk order discounts or subscription service discounts for this product. However, if customers sign up to the manufacturers mailing list they are entered into competitions to win various products.
Guarantee
The returns policy of this manufacturer states that Skin Care products cannot be returned or replaced by the manufacturer, for any reasons. We see no reason why manufacturers should not offer a guarantee because a guarantee is a sign of confidence in the product from the manufacturer and it also shows a level of care towards the customer and their satisfaction.
Our Review Summary Of Nardo's Natural Facial Moisturizer
There are many ingredients in this product but they are combined in a way that they work together to perform the general function of hydrogen the skin. The price of the product is not unreasonable but it is a lot of money for customers to spend on a product that is not guaranteed to work for them. Considering that there are no patented ingredients it is also quite likely that this product is less effective than others. It is for these reasons that we recommend customers look at other manufacturer's products. 
Well researched reviews, from the experts at Research & You.