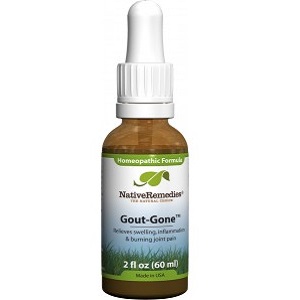 Native Remedies Gout-Gone - Does It Work?-Review
What is Native Remedies' Gout-Gone?
Native Remedies' Gout-Gone is a homeopathic solution used to treat gout symptoms and reduce muscle and joint pain. Its components are 100% natural. The ingredients work to help maintain healthy and strong bones, as well as, keep the expected level of uric acid manageable. The product is safe for everyone and reduces gout attacks in terms of occurrence and pain intensity. Gout-Gone is made in an in an FDA-approved and cGMP-certified facility. It is easy to ingest and does not include preservatives.
Ingredients & How It Works
Quercus 12C HPUS - It is included in the product to help control gout.
Rhododendron 6C HPUS - It works to reduce gout and rheumatic symptoms, gouty inflammation of great toe pain, and swollen joints.
Antimonium crud 6C HPUS - It offers pain relief in the fingers and heels.
Benzoic ac 6C HPUS - This is an essential element that decreases inflammation and aching of the joints.
Silicea 6X HPUS - It encourages healthy connective tissues and decreases the likelihood of damages in it.
Nux vom 6C HPUS - It plays a vital role in reducing itching and heat felt in common body parts.
Ledum 6C HPUS - It decreases irritation and swelling in joints, toes, and limbs.
Though there are no side effects caused by the ingredients that we came across, the manufacturer warns pregnant women should avoid using this product without consulting a physician.
Daily Serving
Native Remedies' Gout-Gone formula is packaged in bottles of 60 ml. To use this product, add drops in a small amount of water or juice and sip bit by bit. On the other hand, you can directly drop it into the mouth. The suggested dosage for this product is 0.50 ml. every 20-30 minutes as required until symptoms settle, preferably, 0.25 ml 3-5 times every day. The product is not limited to age. It is also best to take this homeopathic medicine 10 minutes after food, or 30 minutes after brushing your teeth because most kinds of toothpaste contain strong flavors that interact with this solution.
The Cost
Native Remedies prices its Gout-Gone at $39.95 per 60ml bottle. The manufacturer offers a 10% discount and free shipping for customers who place their order via their auto delivery service. There is also a standing offer to customers where they may buy two bottles and get one free.
Guarantee
The manufacturer of Gout-Gone offers a one-year money-back guarantee to customers. Native Remedies states that it is completely confident that customers will be satisfied with the results of their product. Within this period, any user who might feel dissatisfied with the results can return the product. The company claims it will make a refund on products returned within a year of purchase, less the shipping costs. The manufacturer also requires customers to return both used and unused portions along with the original bottle.
Our Review Summary of Native Remedies' Gout-Gone
Native Remedies' Gout-Gone, offers an excellent homeopathic way to deal with minor pains in joints and alleviate swelling. It is easy to ingest and it is gluten free. A one-year guarantee is an excellent indication of the confidence that the manufacturer has on the efficacy of its products. However, during our research, we were only able to find two positive customer reviews. This made us a bit uneasy.
Well researched reviews, from the experts at Research & You.