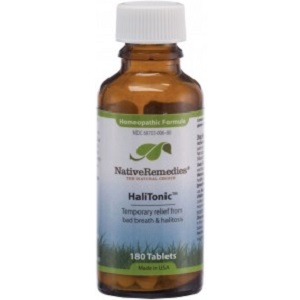 Native Remedies HaliTonic - Does It Work?-Review
What is Native Remedies HaliTonic?
This is a comprehensive review of Native Remedies HaliTonic to provide you with facts you need to know about this product. The manufacturer claims that the product can help temporarily relieve bad breath (halitosis), improve oral health, and provide cleansing properties. Find out more about this homeopathic product, Native Remedies HaliTonic, and see if it is an effective product for you.
Ingredients & How It Works
Kali phos 6C HPUS
Silicea 6C HPUS
Carduus mar 3X HPUS
Nat sulph 6C HPUS
The ingredients in Native Remedies HaliTonic is 100% homeopathic. Kali phos focuses on bad breath and bleeding gums whilst the rest of the ingredients support other factors concerning the gums and teeth.
Based on our research, it seems like the product does not provide the following ingredients which are essential for effectiveness. Firstly, the product lacks probiotics such as Lactobacillus Acidophilus which helps to lower bad bacteria that cause bad breath and body odor. It also helps provide a healthy digestive system. Secondly, the product does not contain Chlorophyllin and Peppermint Oil which are essential in neutralizing and absorbing malodor in the body. Lastly, the product does not contain a multi-action formula to help fight, balance, and prevent.
Daily Serving
The user is recommended to dissolve the small, pleasant-tasting tablets directly in the mouth. For small babies, the tablets can be crushed and the powder can be placed under the tongue. It is suggested that all ages take 2 tablets, 2 to 4 times per day. The product can be taken 10 minutes after a meal or 30 minutes after brushing the teeth.
The Cost
Each bottle contains 180 tablets and depending on how often the product is used, it should last between 22 and 23 days. It can be purchased online from the manufacturer's website. A bottle costs $39.95. If you purchase 3 items, you will only pay for 2. There are no other forms of discount made available.
Guarantee
The manufacturer offers a one-year money-back guarantee. Users must use the product for at least 30-days before wanting to return it for a refund. All opened and unopened containers must be returned for a full refund.
Our Review Summary Of Native Remedies HaliTonic
After our review of Native Remedies HaliTonic, we have found that the product comes in pleasant-tasting, small tablets and the manufacturer provides clear instructions on when and how to take it. Also, the manufacturer provides a guarantee for each customer.
However, there are many more things about this product that we are concerned about that need to be addressed. First of all, the product does not seem to provide the user with clinically proven ingredients such as probiotics and peppermint oil. This could cause the product to be less effective in comparison with other products. Furthermore, the manufacturer does not provide discounts on their products and there are not many bundle deals to choose from. Due to these unfortunate drawbacks, we cannot recommend Native Remedies HaliTonic as a safe and effective supplement. You are better off finding an alternative supplement which will target bad breath and body odor all-in-one.
Well researched reviews, from the experts at Research & You.